Ocean Shores Casino
The Ocean Shores Casino is located at the Quinault Beach Resort and Casino. The Quinault Indian Nation is a deep and sacred part of the resort's idenity.
The Quinault Indian Nation is made up of over 2,800 members from the tribes of Quinault, Quilieute, Queets, Hoh, Chehalis, Chinook and Cowlitz. The reservation is over 208,000 acres of pure, wild coastline, raging rivers, unspoiled lakes and pristine wilderness. The land is home to one of the largest coniferous forests in the US.
Read about more Washington State Casinos here.
The tribal members love to share their special gifts and their heritage with visitors. When you visit the reservation, an Indian guide will take you and your friends or family on exciting fishing excursions on their sacred waters.
You are also welcome to take a guided tour of the natural Pacific coast beaches, here you will learn about the local flora and fauna from tribal members who really know their stuff.
For a true Washington State experience, you really must visit the Quinault Indian Reservation.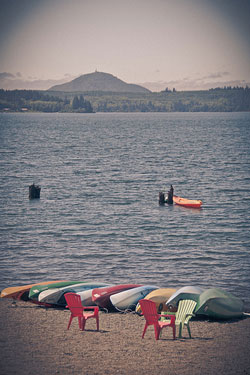 Ocean Shores Casino
Reproduced under a Creative Commons license with the kind permission of
hermitsmoores on Flickr
The Quinault Beach Resort and Casino is pure paradise. Not only are you treated to your favorite Vegas style table action, you can try your hand at the coolest electronic slot machines around.
Love poker? The casino features a poker room with a multitude of tournaments geared towards all skill levels. You will find numerous craps and roulette tables spread out over the casino floor and various specials and promotions throughout the year.
The Hottest Slots on the Beach
The Ocean Shores casino offers the hottest slots outside of Vegas. You will find all of your favorites like Milk Money, Fairy's Fortune, Triple 7s and Hot Shot Progressive. Credit values range from one penny to one dollar. The more you play, the more points you can win.
Points can be used for just about everything the resort and casino has to offer – special services, spa visits, merchandise, your hotel stay or dinner at any of the Quinault Beach Resort and Casino restaurants.
Looking For More Fun Things To Do?
Read our reviews of Washington State Tourist Attractions, and find your next great adventure!
Las Vegas Style Tables
The casino features a Vegas style casino experience. You will find everything you need, including all of your favorite tables – eight blackjack tables, roulette, craps, fortune pai gow and 3-card poker. Table limits range form $3 to $500.
Texas Hold'em Poker Room
The Ocean Shores casino holds special no-limit tournaments every night in the poker room. For a fifty dollar buy-in you can join in on all of the live action. You can try for one of the special jackpots or play in special cash games. Every night there is a new selection of cash games and tournaments.
You can even arrange to have your own private tournament for your group. Dealers are trained to help out new players.
The Q-Club
As a Q-Club member you can earn valuable points that can be used to get cash back or to redeem for hotel benefits or gifts. Membership is free. The more you play, the more you can earn. Just drop the Q-Club desk and sign up.
Dining
The points you earn can be redeemed at the Ocean Shores Casino restaurants for an exquisite, full course meal or a quick cup of coffee.
Emily's Fine Dining – This charming and elegant restaurant is named after a well respected elder of the Quinault Indian Nation, Emily Sherwood. Your dining experience includes breathtaking, panoramic views of the ocean, an elegant atmosphere and the best seasonal seafood and beef dishes around.
The restaurant is open daily from 8am to 8pm and serves breakfast, lunch and dinner. Friday nights it stays open until 9pm.
Sidewalk Bistro and Deli
For a light snack or quick bite between games, the Sidewalk Bistro has just what you need for a little afternoon pick-me-up or bed time snack. They serve up a good selection of hot and cold sandwiches, fresh salads, burgers, soups and seafood chowders. The Bistro is open every day from noon to 10 pm.
There is also a coffee shop and lounge. The lounge features live entertainment Friday and Saturday nights from 9 pm to 1 am. Admission to the live shows is free, but you must be twenty-one or older to get in.
Forget about the hustle and bustle of Las Vegas. The next time you are in the mood for some fabulous casino action and want to be surrounded by pure and unspoiled nature, head to the Ocean Shores Casino in Washington for the best casino fun you can imagine.
More Ocean Shores Attractions
Go from Ocean Shores Casino to the Ocean Shores Washington menu
Visit the Washington Coast Adventures home page