Olympic National Park is a Natural Treasure
Olympic National Park is a huge and beautiful resource for visitors to Washington State.
When was the last time you stood among the giants of an old growth forest and gazed up at their leafy green canopy to wonder at your own insignificance before the splendor of nature? In the unspoiled regions of the Pacific Northwest of the United States you can still find solitude among the giants and lose yourself in the lush green forests.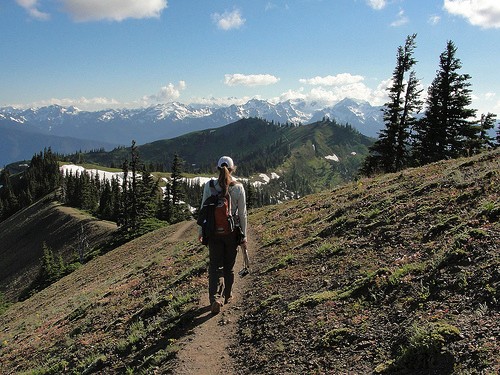 Olympic National Park, Washington State. Reproduced under a Creative Commons license with the kind permission of MiguelVieira on Flickr
There are still places where not a sound is heard, apart from the whistle of the wind through the trees and occasional snapping of a twig. These are the grand old forests of the world, and Olympic National Park is full of them.
A Jewel of Nature
It was former President Theodore Roosevelt who recognized the true value in these splendid forests, designating them a National Park by Congressional decree in 1938.
The park itself, now a World Heritage Site, encompasses almost one million acres of pristine and protected natural delights, from the Pacific coastline, more than 70 miles of it, to mountains and temperate rainforests.
The area includes a wide variety of plants and animals, including Roosevelt Elk and Sitka Spruce trees.
Wandering among these giant conifers, it is easy to imagine time slowing down, even reversing course, from your hectic work week life.
Get Active
If you travel to this incredible National Park, don't even think about driving in to a good camp site. Most of the roads hardly penetrate the edge.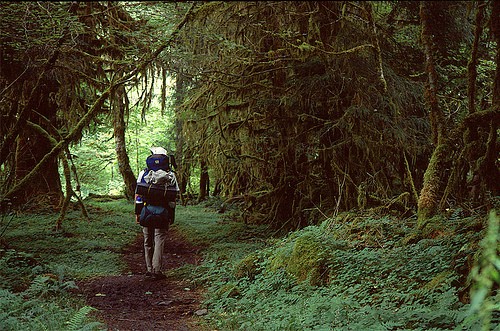 Olympic National Park, Washington State. Reproduced under a Creative Commons license with the kind permission of wisconsinhiker on Flickr
In order to get inside to the most unspoiled regions, you need to crack out the hiking gear and strap on your boots. There are hundreds of miles of splendid trails that are calling for visitors.
The area is known for high levels of precipitation, in fact some years more than 150 inches of rain can fall on the park, but during July, August and September, the area is dry, warm and welcoming.
You can also wander the beach front property in the park.
Nobody lives there but crabs and other sea creatures, but you do get an awe-inspiring view up the majestic cliffs, feel the salt spray of the Pacific Ocean in your face and the sand beneath your feet.
The ocean roar will not soon be forgotten after a full day of exploring the beach at Olympic National Park.
If you head to the northern-most portion of the coastline in the park, you will reach Ruby Beach, known for its tremendous amount of driftwood and amazing sea stacks, or ocean bound rock outcroppings.
If skiing is more your thing then visit in the full winter, January and February, and head for Hurricane Ridge Winter Sports Club, on Hurricane Ridge. The Hurricane Ridge Ski and Snowboard Area is one of the few remaining not-for-profit alpine ski areas left in the world. It offers ski lessons, rentals and cheap lift tickets to the top. There are also picturesque cross-country ski trails to explore.


Visitor Information
The park is open 365 days per year, though some areas may close due to weather conditions, particularly in winter.
Vehicles are charged $15 entry. Pedestrians, cyclists and motorcyclists are charged $5 entry. Persons under 15 years of age are admitted free.
Campgrounds charge from $10-18 per night.
See more detailed information at the NPS.gov website.
NOTE: Information correct at time of publication. Always check with your chosen destination before you travel.
Have Your Say!
If you've visited Olympic National Park and have a story to share – maybe a photo of you at the end of a hike, or the perfect view you loved so much, you just had to take a video and upload it to YouTube – don't be shy. Share that moment with our readers, and help the world understand what makes this park so special.
Use the simple form below to send us a write-up of your favorite memory of the park. You can include up to four pictures, too.
Review Washington State Tourist Attractions
Review any of the Washington State Tourist Attractions using this simple form.

Simply click and type to enter your review. But if you require help, click on any of the question mark icons.
Return from Olympic National Park to the Washington State Parks menu page


Be sure to discover all our Washington Coast Adventures!