Your Guide to Washington State Cities and Towns
This guide covers Washington State cities and towns along the Washington coast. Most of the big attractions in the region center on one of the following areas. Click any link to read more details of each city or town.
Aberdeen, WA
Aberdeen shares its name with the city in Northeast Scotland, but has little else in common. Located on the Olympic Highway (Route 101) where it meets route 12, Aberdeen, WA is on the most inland town in Grays Harbor.
Read more about Aberdeen
Anacortes, WA
Spectacularly located on the western edge of Padilla Bay at the north of Fidalgo Island (actually a peninsula), Anacortes, WA is a perfect location for visitors looking to make the most of the Washington coast seaside attractions.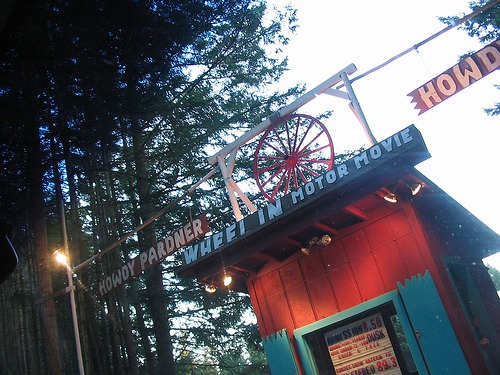 Wheel-In Movie Theater, Port Townsend, WA
Bellingham, WA
A major town with its own international airport, Bellingham, WA is located on the Bellingham Bay, north of the Larrabee State Park, and is well-situated for virtually any kind of Washington coast adventure.
Birch Bay, WA

The only town south of Blaine before you reach the Canadian border, Birch Bay, WA is a small settlement that is a popular seaside resort for families seeking a quieter style of beach vacation.
Blaine, WA
Another small town, Blaine, WA is within walking distance of the border with the Canadian Province of British Columbia. Its principal attraction is the Peace Arch, celebrating the special relationship between the US and Canada.
Coupeville, WA
Tiny and picturesque, Coupeville, WA is located on Whidbey Island. Established in 1853, Coupeville is one of the oldest towns in all of Washington State. Its island location is perfect for exploring the Whidbey Island area and Puget Sound's coastal attractions.
Forks, WA
Although it's several miles inland, we include Forks, WA in our Washington Coast Adventures site because it's so conveniently located for many of the area's best attractions, including the lovely Olympic National Park, just to the east of the town.
Ilwaco, WA
Just north of the beautiful Cape Disappointment State Park, Ilwaco, WA is a small town on Baker Bay, facing across to the Oregon coastline at the southernmost point of the Washington coast.
La Conner, WA
Located on the Swinomish Channel, the small fishing port of La Conner, WA faces the Swinomish Indian Reservation, and is well-known for the Pioneer Park attraction at its southernmost point.
Long Beach, WA
This town could not be better named! Long Beach, WA is built on 25m of beach. Just north of Cape Disappointment State Park and Ilwaco, Long Beach is a great choice of Washington State beach resort.
Moclips, WA
Within easy striking distance of the Olympic National Park and located on a beachfront, Moclips, WA is a great all-round destination for the family who wants to mix up their vacation time with a little of everything. It's also a smaller town than some of the seaside resort choices in Washington State.
Mt. Vernon, WA
Popular in the springtime for the Skagit Valley Tulip Festival, the bulb-growing region near Mt. Vernon, WA makes this a paradise for flower lovers. There's much more to this town than tulips, though it's some way inland, so not the ideal location for water babies.
Oak Harbor, WA
A distinctly Dutch flavor awaits visitors to Oak Harbor, WA, the largest town on Whidbey Island. Founded by Dutch settlers, there are still architectural reminders of its earliest settlers, and the town is well-situated for the lovely Deception Pass State Park.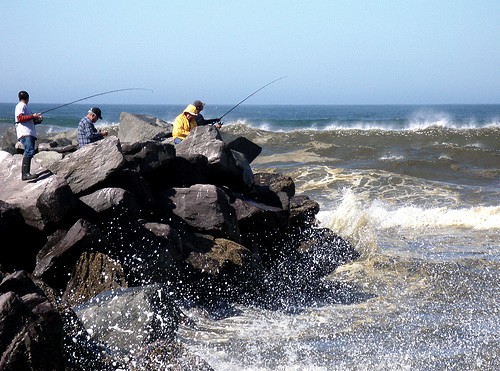 Fishing at Ocean Shores, Washington
Ocean Shores, WA
While this newer town may lack some of the charm of the earlier-settled towns on the Washington coast, Ocean Shores offers plenty of choice for families seeking a seaside vacation.
Read more about Ocean Shores, Washington
Oysterville, WA
For tourists wanting to see historic buildings, Oysterville, WA is a must-see. It's among the oldest towns in Washington State and boasts homes dating back to the 1860s. It's located on the coast north of Ocean Park on Willipa Bay and is a good destination for people wanting to focus on waterside activities.
Port Townsend, WA
With history dating back to the early 1850s and many Victorian buildings, Port Townsend is a pretty town within easy range of the Olympic National Park.
It faces Whidbey Island and is a short drive from many attractions and towns of interest, including Port Angeles.
Read more about Port Townsend, Washington
Quinault, WA
If you're planning a trip to the Olympic National Park, then Quinault, WA should be on your list of places to visit.
Here, on the shore of Lake Quinault, you can see the region's famous temperate rain forest, with spectacular plant life, hiking and other outdoor pursuits.
Sequim, WA
Lavender farms are located in Sequim, WA, and the time to catch them in bloom is July to August. The town is south of Dungeness and within easy reach of Port Angeles and the Olympic National Park, making it a good destination for families planning to spend a lot of time in and around the park.
Read more about Sequim, Washington
Westport, WA
Lovers of the sea will find few places more suited to their needs than Westport, WA. You can surf, go sea fishing, dig for clams, or just relax on the beach, while the Westport Light State Park is home to the Grays Harbor Lighthouse.
Westport, Washington hotels
Westport Winery
Whidbey Island, WA
In Puget Sound, Whidbey Island, WA could almost command a website all of its own! There is so much choice and variety here, not to mention raw natural beauty, that it's hard to sum up the area. You simply must get there sometime.
Read more about Whidbey Island, Washington
NOTE: Information correct at time of publication. Always check with your chosen destination before you travel.


Have Your Say!
If you've visited one of the Washingon State cities or towns, and have a story to share, get writing! We love to publish stories from readers: it's great to hear about your own Washington Coast adventures.
Use the simple form below to send us a write-up of your favorite memory of the town, or any of its museums, restaurants, hotels or attractions. You can include up to four pictures, too.
Return from Washington State Cities and Towns to the Washington Coast Adventures home page