Must-Know Info on Port Townsend Washington
The small town of Port Townsend Washington (population 8,000 and change) is at the northeast tip of the Olympic Peninsula.
Nicknamed the "City of Dreams" by its earliest citizens, the community boasts a number of Victorian homes and buildings and an annual jazz and blues festival that draws musicians from all over the world to play in its famous bars and clubs. The week long jazz festival features performances and workshops for musicians and jazz artists alike.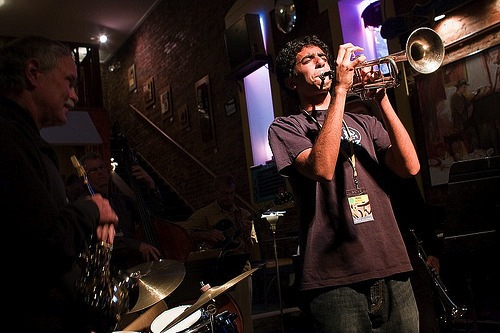 Port Townsend, Washington has a vibrant Jazz scene. Reproduced under a Creative Commons license with the kind permission of ptcentrum on Flickr
The Port Townsend Bell Tower, Manresa Castle, City Hall, Courthouse and Post Office, are all considered architectural delights which have been restored to their original glamor and maintained as historical landmarks.
The Manresa Castle is a beautiful hotel and a wonderful venue for many Port Townsend weddings.
Port Townsend Washington: History
Port Townsend has a rich maritime history that is obvious to anyone who comes to town.
The community is known for regular sailing regattas when the weather is right and weekly boat races.
There are also numerous water sports and recreational activities for anyone looking for some of the best sailing, kayaking or general boating.
If you want to keep your feet on solid land but admire the classic boats, Port Townsend docks are loaded with classic wooden boats and are known for their thriving marine trades industry which still builds and repairs some of the classic wooden boats.
Take a stroll through downtown Port Townsend and see what all the maritime splendor has inspired in local artists.
The town is known for its thriving arts community. There are several art galleries and two full fledged art collectives. There is also a monthly Arts Walk and an abundance of artist workshops for anyone looking to improve their skills.
Port Townsend's Entertainments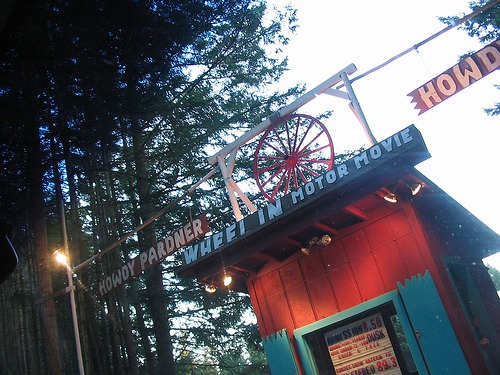 The Wheel-In Drive-In Movie Theater, Port Townsend, WA. Reproduced under a Creative Commons license with the kind permission of reverendkomissar on Flickr
The town is open to one of the few remaining drive-in theaters in the country. Pull your rental car up to the speaker, get some popcorn from the central concession stand and enjoy a thrilling outdoor movie from the comfort of your own car.
Or, if foreign films are more your thing, visit the
Rose Theater
downtown for some of the latest artist releases.
The Uptown Theater has more current films, if you are looking for that, but really, with the beautiful vistas all around you, why would you want to shut yourself indoors for a few hours?
Port Townsend is also home to the Fort Worden State Park, which hosts a number of artistic events each year, sponsored by the local arts organization, Centrum.
Each year the city holds a film festival and the area hosts musical events to celebrate fiddle tunes, blues, jazz and even chamber music.
If you're interested in boats you can also enjoy the annual Wooden Boat Festival.
Don't miss a visit to the Copper Canyon Press, which specializes in poetry. You can also stroll the campuses of Goddard College and Peninsula College. For something a little less formal, stop by the Madrona Mindbody Institute and the Third Ear Project.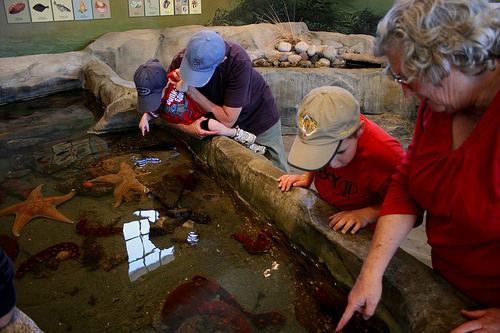 Marine Science Center, Port Townsend, WA. Reproduced under a Creative Commons license with the kind permission of stewickie on Flickr
For an educational experience, how about a trip to the Port Townsend Marine Science Center? You can learn about the maritime history of the community and how the local marine environment created the land mass where Port Townsend sits and how the creatures that live in the water impacted the lives of the people who lived there.
For a really entertaining and exciting day you should not miss the Kinetic Sculpture Race which is held annually in Port Townsend. This irresistible mixture of art, Heath Robinson invention and scientific looking 'bodge' is a sight to behold!
NOTE: Information correct at time of publication. Always check with your chosen destination before you travel.


Have Your Say!
Spent a memorable time in Port Townsend Washington? Share your story or photos with our easy-to-use form.
You can upload as many as four photos, with captions, and simply type your story in the form provided.
Review Washington State Tourist Attractions
Review any of the Washington State Tourist Attractions using this simple form.

Simply click and type to enter your review. But if you require help, click on any of the question mark icons.
Return from Port Townsend Washington to the Washington Coast Adventures home page