Kinetic Sculpture Race
What in the world is a kinetic sculpture race? It is an organized contest made up of human-powered, all-terrain, amphibious works of art.
The event originated in Humboldt County, California and is now held in several states around the country, as well as in other countries. It is also known as the Triathlon of the Art World, because the racers combine art and superior engineering with physical endurance.
The creations are quite a sight to see. The human powered vehicles are artistically enhanced. Each is supposed to be designed to drive on sand, through mud, float on water and conquer hilly terrain.
However, many never actually make it out of the starting blocks. And that is half the fun. Watching these marvelous creations come crashing down before the race even starts has the crowds roaring with laughter.
Art Meets Science
Some of the sculptures are engineering masterpieces, but most of them are an obscure mixture of bicycle parts, duct tape, various household items and a good dose of imagination and prayers.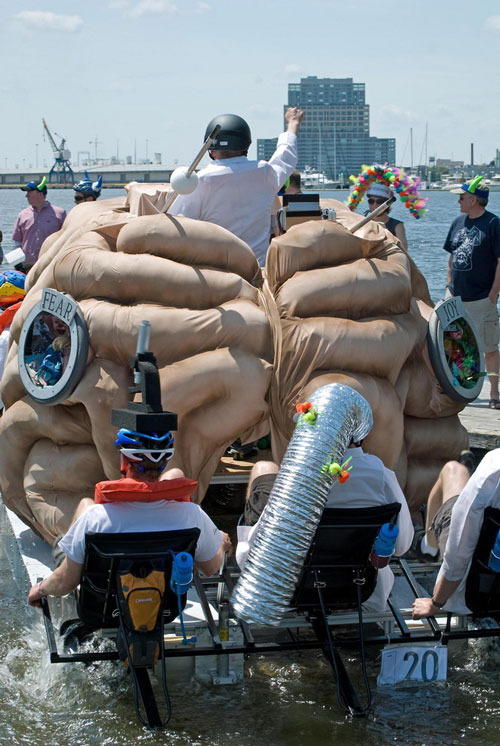 Kinetic Sculpture Race Contestants Reproduced under a Creative Commons license with the kind permission of jwiv on Flickr
Every racer is given an award – whether they want it or not. The Mediocrity Award is the most highly valued. It is awarded to the sculpture finishing smack dab in the middle of the pack.
The kinetic sculpture race is all about having fun. Racers and spectators are encouraged not to take the event too seriously.
How It All Began
The origins of this hilarious, unique competition can be traced back to a sunny Sunday, Mother's Day morning in 1969. On this particular day, Hobart Brown, a local artist from the quaint Victorian town of Ferndale, California, decided to make a few artistic adjustments to his son's tricycle.
Hobart was so proud of his creation, that he set it out in front of his art gallery for all to see.
Jack Mays, a nearby shop owner, was intrigued by this artistic display and decided to create a kinetic sculpture of his own. He then challenged Hobart to race the sculptures down Main Street. Word spread quickly and soon other local artists wanted to join the race.
By race time, there were about twelve human-powered creations entered into the race. Interestingly, neither Hobart nor Jack came out victorious in that first race.
But, it was the start of something big. Racers and spectators were so taken by this new sport that it became a tradition.
Vehicles evolved, prompting more challenging elements to be introduced to the course, such as mud and water. This made it necessary for the kinetic pilots to be prepared for anything.
The vehicles had to be prepared for all types of terrains and the drivers had to be ready to handle breakdowns and other hazards. The key to the Kinetic Sculpture Race is being able to master the course without any assistance.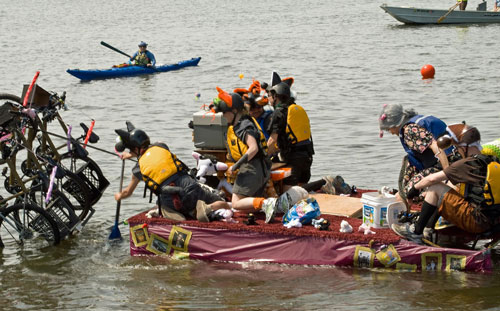 Kinetic Sculpture Race Contestants Reproduced under a Creative Commons license with the kind permission of jwiv on Flickr
In 1983, Port Townsend, Washington joined in on the fun with their own kinetic Sculpture Race, making it the third city to jump in on this ever growing phenomenon. Unlike some of the other races held today, Port Townsend stays true to the original values and the original spirit of that very first race in Ferndale, California.
The Greater Port Townsend Bay Kinetic Sculpture Race still relies on grass roots support, and is one of the few kinetic races not taken over by corporate investors. It remains an independent race run by volunteers that pride themselves in keeping the true spirit of the race alive.
More Popular Than Ever
The popularity of the race has grown steadily over the years. What started out as a whimsical bit of fun in a small California town has evolved into a world wide phenomenon. The race has become an artistic, philosophical, engineering movement loved by millions of fans all over the world.
The visually appealing race draws international attention from the media, as well as spectators and those hoping to compete. The wild and wacky Kontraptions win more and more hearts every year, entertaining fans from all parts of the world.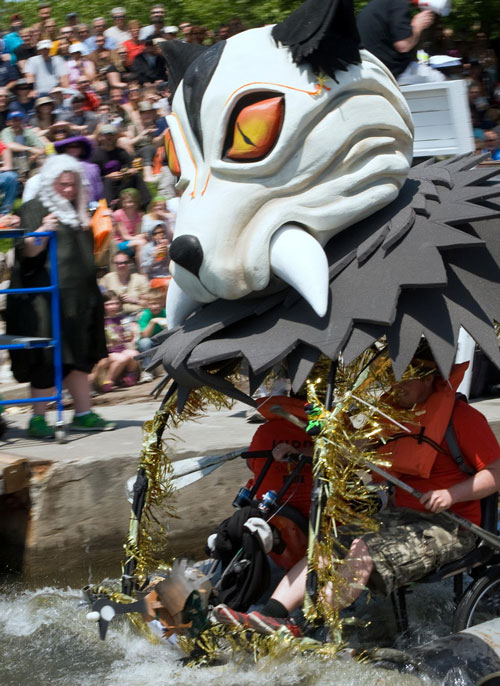 Race Contestants Reproduced under a Creative Commons license with the kind permission of jwiv on Flickr
Today, the Kinetic Sculpture Race is held in Ventura, California, Boulder, Colorado, Portland, Oregon, Corvallis, Oregon, and Baltimore, Maryland, as well as Port Townsend, Washington. Internationally, the concept has spread to Poland and Perth, Australia.
More international races are planned for countries like Germany, England, South Africa and even Japan is talking about joining the excitement of hosting a Kinetic Sculpture Race.
This eccentric display of human ingenuity and plain old fashioned fun captures the hearts and imaginations of all who see it, and leaves spectators and racers itching for more.
Go from Kinetic Sculpture Race to the Port Townsend Washington menu
Visit the Washington Coast Adventures home page