So Much to do in Ocean Shores, Washington
You need to visit Ocean Shores, Washington if you are looking to relax on some of the finest sandy beaches in the Pacific northwest.
The city of Ocean Shores is located on the six-mile long Point Brown peninsula, which has the Pacific Ocean on one side and Grays Harbor on the other. There are two lakes, 23 miles of interlocking canals and an old growth rain forest in the city.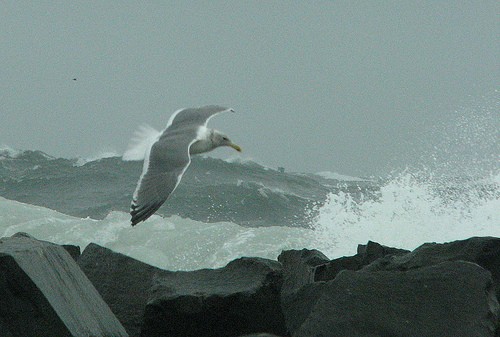 Ocean Shores, Washington State. Reproduced under a Creative Commons license with the kind permission of MïK on Flickr
Birding enthusiasts have catalogued more than 250 species of birds which call the city home each year, but they share the property with a herd of deer that also roam the city neighborhoods.
Small Town, Big Water
With more than six miles of beaches the Pacific Ocean, with its thundering surf and glistening charm, is the biggest attraction in the community of just 4,000 people.
Tourists come from all across the Pacific Northwest to enjoy the white sandy beaches and take in the bright sun during the summer months.
The ocean also affords plenty of opportunities for water sports, such kayaking, body surfing, swimming and sailing.
If fishing is more your thing, cast a line in one of the two pristine lakes and try your luck at drawing out supper, or get your deep-sea fishing gear and charter a fishing boat out into the Pacific.
Down at the southern tip of the Ocean Shores, Washington peninsula, visitors can enjoy Damon Point State Park. This 61-acre park is great for spending the day close to nature. The park land juts out into the Pacific like a finger, with a cooling breeze and air that is fresh as the nearby ocean.
Damon Point State Park is also one of the few remaining nesting places for the snowy plover. Bird watching enthusiasts come from all over the world to catch a glimpse of the bird and her hatchlings. So bring your camera if you plan a visit.
Birders' Paradise
The area around Ocean Shores, Washington is a spectacular resource for bird lovers.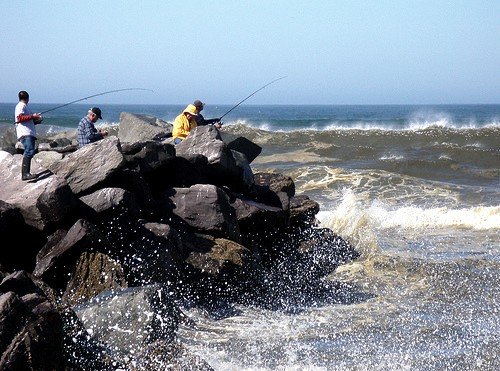 Fishing at Ocean Shores, Washington State. Reproduced under a Creative Commons license with the kind permission of JBYoder on Flickr
Damon Point State Park is nice, and the snowy plovers are very interesting to watch, but the true treasure for serious birders is the nearby Oyhut Wildlife Area. This section of the Ocean Shores Peninsula is nearly 700 acres of protected wetlands and tidal flats.
Just about every type of marine fowl calls this place home, from blue herons to brown pelicans, pheasants and even a few stray snowy plovers.
After a few hours at Oyhut Wildlife Area your birding book will be full of notations and your camera full of snapshots of some of the most amazing waterfowl in the nation.
If you are looking for a place to camp for the night, consider the Ocean City State Park.
This gorgeous 170-acre camping park has everything you need to make your sea front camping experience great.
First, walk the beach like a true beach comber and find all sorts of treasures washed up with the surf. Assorted pieces of driftwood and colorful seashells just to name a few.
Ocean City State Park offers beach front property on the Pacific Ocean, huge sand dunes, dense thickets of scrub and shore pine. The migratory birds who couldn't find a free spot to roost in the Oyhut Wildlife Area usually spill over to Ocean City State Park, so be sure to bring your camera!
NOTE: Information correct at time of publication. Always check with your chosen destination before you travel.


More Ocean Shores Attractions
Have Your Say!
If you've visited Ocean Shores, Washington and have something to recommend the area, get writing! We love to publish stories from readers: it's great to share.
Use the simple form below to send us a write-up of your favorite memory of the peninsula. You can include up to four pictures, too.
Review Washington State Tourist Attractions
Review any of the Washington State Tourist Attractions using this simple form.

Simply click and type to enter your review. But if you require help, click on any of the question mark icons.
Return from Ocean Shores, Washington to the Washington Coast Adventures home page