Ocean Shores Rentals
Ocean Shores rentals are a perfect reflection of the family oriented atmosphere of this small, ocean front community. There are plenty of great places to stay, so you are sure to find the perfect accommodations for your taste and budget.
Many of the places are pet-friendly, so no need to leave your best friend at home or at a kennel. But you should definitely check that before you book.
Ocean Shores rentals offer everything from cozy Bed and Breakfasts to luxurious hotels, and everything in between, including private home rentals. Whether you want to stay overnight or for several weeks, you will find just what you need.
Stayed Somewhere Magical?
Please contribute your thoughts to our Washington Coast Hotels page!
Ocean Shores Rentals: Top-Rated Bed and Breakfasts
The Collins Inn and Seaside Cottages – This lovely place is located right across from the ocean near Damon Point. The Collins Restaurant serves up a spectacular dinner, remarkable ambiance and dessert selections to die for. You are advised to make reservations for specific seating times. The aquarium fish in the dinning room provide great dinnertime entertainment. Plus, there is a live piano player that plays gentle tunes during dinner.
Looking toward Westport Reproduced under a Creative Commons license with the kind permission of Wayne_Parrack on Flickr
Weatherly Suites – The rooms are spacious and clean. This motel itself is quite old, but the new management has implemented many upgrades. The beach is just a short walk away. You are treated to free movies in the lobby, furnished kitchenettes in the suites, after hours access to amenities, and a newspaper on your door every morning. They really take great care of their guests. It is a comfortable and affordable place to stay.
Gibson's Bed and Breakfast –This intriguing home is surrounded by glorious untamed nature and marine life. A true paradise for nature lovers. Inside the beautiful and unique private vacation home has its own 14 seat Movie Theater, with many movies to choose from. Outside, you can enjoy a private back yard with a fire pit, dine outdoors on the picnic table, sit on the dock, or go for a ride in a pedal boat. Close to the sandy beaches and marina.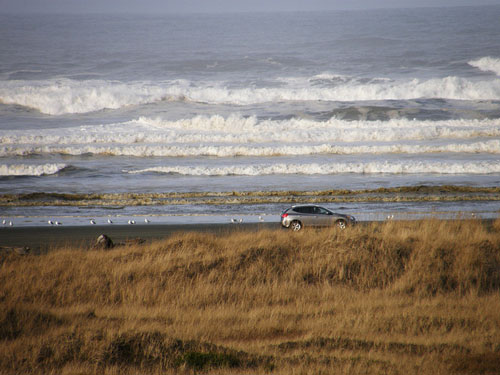 The beach at Ocean Shores, Washington. Reproduced under a Creative Commons license with the kind permission of Rgtmum on Flickr
Top-Rated Ocean Shores Rentals
Judith Ann Inn – Rated the number one hotel in Ocean Shores, this is the place to go if you are looking for true self-serve luxury. It is not a full service hotel, however the friendly staff will help you with anything you need. Each unit has a fully equipped kitchen, a spacious living room featuring an elevated jetted tub, an amazing king sized bed, and a fireplace. There are several nice restaurants nearby if you don't want to do your own cooking.
GuestHouse Hotels – Many of the rooms offer a beautiful view of the beach. The bedroom is separate from the living room. In the living area you will find a pull out sleeper, an electric fireplace, a television, a breakfast nook, sink, coffee maker, microwave oven and a small refrigerator. The large bedroom has a comfortable king sized bed, and another television. The most popular feature of this hotel is the complimentary hot breakfast, which includes scrambled eggs, bacon, sausage, biscuits and gravy, cereals, waffles and several varieties of breads. As well as coffee and juice, of course.
Polynesian Resort – This older resort is filled with charm. It features a free breakfast, free high-speed internet, plenty of free parking, in room kitchenette, restaurant and swimming pool. They don't just allow pets, they welcome them. Your dog will be treated like canine royalty. Deer stroll up and down the grassy area outside the ocean view rooms.
Beachcomber Resort – These condo style apartments feature one bedroom units capable of sleeping up to four people. Located downtown Ocean Shores, this is one of the most popular beach destinations in Washington. This brand new resort features 11 guest rooms within easy walking distance of the refreshing coastal waters of the Pacific Ocean. You will love the six expansive miles of sandy beaches, the large selection of recreational opportunities, and easy access to town. Included in your stay is free access to a nearby clubhouse with a fitness center, tennis courts, and indoor pool.
By the Beach in Ocean Shores – Located just minutes from the famous 25-mile-long Ocean Shores beach, these one bedroom units can sleep up to six people. You have a full kitchen and all the cookware you need – just add food. These comfy and cozy condos overlook an 18-hole golf course. You have easy access to shopping, local attractions, bike and go cart rentals. Enjoy a picnic in the beautiful courtyard or grab a refreshing dip in the pool.
Bristol Court Condo – This brand new, three bedroom condo is truly a home away from home. Located on a peninsula just two hours from the Seattle Airport. It features amazing views of the marina, the ocean, the bay and the mountains. Picture yourself relaxing on the private balcony, listening to the ocean waves as the sun slowly disappears below the ocean. The kitchen is fully equipped with stainless steel appliances, granite counter tops and a convenient eating bar. The dining room table seats eight. The large master suite features a luxurious bathroom, and a jacuzzi tub.
Ocean Shores Rentals: Book Ahead of Time
Prices and availability in all Ocean Shores rentals varies, so make sure you call ahead or make a reservation online before heading out. There also many special deals and coupons available from time to time.
Many people forget the little things. If you are planning on doing your own cooking, don't forget the salt, pepper, condiments, cooking oil and anything else you may need to prepare a meal. The fully equipped kitchens and kitchenettes do not include any food.
The local grocery store has been known to run out of supplies during especially busy times. Plus, the prices are pretty high. So, the more you can bring with you, the better.
Whether you come to the coast for the glorious beaches, breathtaking ocean views, mountain air, or spectacular forests, Ocean Shores, Washington has it all. And with so many fabulous Ocean Shores rentals available, you are sure to find exactly what you are looking for.
More Ocean Shores Attractions
Go from Ocean Shores Rentals to the Ocean Shores Washington menu
Visit the Washington Coast Adventures home page