Fishing Washington Guide
Nothing beats fresh fish and your fishing Washington guide from local sources will help you get the best catch. Whether you are trying to keep your grocery bill down or just like to know where your fish comes from, a fishing Washington guide can tell you what is in season and how many you are allowed to take home. Plus, the best place to find the fish you are after.
The waters in and around Washington offer more than a dozen different species of fish and shellfish. Fishing doesn't just provide your family with an affordable, fresh meal, it is also a great way to slow down, relax in the great outdoors and create wonderful memories with your family.

Where to Go Fishing Washington guide

Washington State provides excellent salt water and fresh water fishing opportunities. With more than 500 miles along the Pacific coast, and more than 2,000 miles of combined shoreline along Puget Sound, the Strait of Juan de Fuca and the shoreline along Hood Canal, you never have to worry about securing a spot for yourself.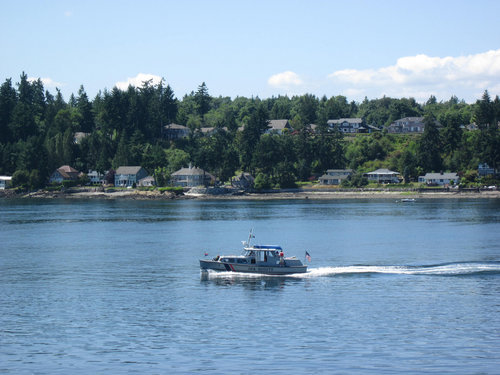 Puget Sound, Washington
Reproduced under a Creative Commons license with the kind permission of
Dougtone on Flickr
If that isn't enough space, there are 4,000 rivers and streams, over 7,000 lakes and more than 200 reservoirs. Most of the lakes are now open all year. The spring lake opener on the last Saturday in April is the start of the traditional fishing season. An estimated 300,000 eager anglers come out on this one weekend alone.

Some areas have shorter seasons, usually for the sake of preserving nesting waterfowl or various other biological concerns.

The Washington Department of Fish and Wildlife stocks approximately nineteen million young trout and salmon fry to meet the fishing demand. The baby fish grow to a suitable size by the spring opener. An additional three million grown trout are stocked throughout the lakes and streams during winter. Some lakes are stocked with sterile rainbow trout that grow to quite an impressive size.

Fly fishing in rivers and streams usually opens the first Saturday in June. This is to give trout a chance to spawn and to allow juvenile salmon, char, steelhead, and sea-run cutthroat fish to migrate out to sea.

Through careful management, many rivers and streams are now able to naturally reproduce wild trout, steelhead and salmon. This means less stocking from hatchery reared fry is needed.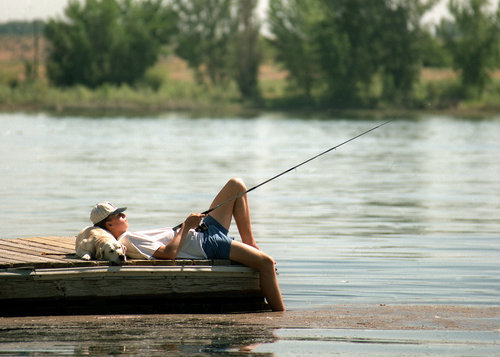 Fishing Washington guide: Fishing in the Columbia River
Reproduced under a Creative Commons license with the kind permission of
EMSL on Flickr
Fishing Washington guide lines state when seasons are open for marine fish, migrating fish, and shellfish. Times and limits are determined by the population of certain species and may be adjusted at any time during the year. These rules and strict seasons may seem complicated or restrictive, but they are necessary in order to protect fragile fish populations and, sometimes to protect people, as in the case of shellfish restrictions.

In addition to fish stocking programs, the WDFW is also in charge of stocking programs to improve fishing opportunities for other species like clams and oysters. Shellfish regulations and open areas are listed on the WDFW web site http://wdfw.wa.gov/fishing/reports_plants.html
Harsh winter weather and storms sometimes negatively affect the natural reproduction of fish. Excessive built up of silt combined with powerful currents can cause serious survival problems for eggs and juveniles. The growth of the fry can also be negatively impacted with excessive turbulence.

Fishing Washington guide with hints and tricks to ensure your success:
Many lakes are open all year. Stocking usually begins in mid-March, but most people don't break out their fishing poles until the big opener at the end of April. You can be missing out on some fabulous fishing opportunities if you don't take advantage of the low pressure, high yield time from mid-March until the end of April. Lakes not open all year are generally not stocked until opening day. This is to protect the fish from predators.
Newly introduced trout normally stay in the top few feet of water for about a week to get used to their new environment. You can greatly improve your fishing success by fishing at this level during that time.
Trout fishing in shallow lakes is usually better if the water is cool, like in the spring and fall.
Larger, deeper lakes are generally good for trout all year. Stick to shallow waters in the spring and fall and fish in deeper waters during the heat of summer and you will greatly increase your success rate.
May, June, and July are generally the best times for sockeye that don't head out to sea or have been trapped inland. It is also a good time for halibut.

Lakes in high elevations are sometimes stocked with golden, cutthroat and rainbow trout from June to October. Some of the lakes have developed naturally reproducing populations, while others are left barren on purpose. Brook, lake, tiger and brown trout have been introduced to add diversity to the fish populations. Stocked fry usually take about a year or two to grow to a suitable size, depending on the available nutrients and food supply in the lake.
Summer time provides great angling opportunities for species such as sunfish, bass, and catfish.
For walleye fishing, head to the Columbia River reservoirs. It is open most of the year, but your best bet for catching a trophy class fish is during the winter or in the early spring.
Mountain whitefish are one of the best tasting fish of all. You can have great success landing some of these in the winter when they gather in schools to spawn. Certain streams have special winter seasons when this fish is the only one you are allowed to catch.

Angling opportunities abound throughout Washington. Fishing Washington guide lines can tell you where to go for the fish you want. Check the WDFW web site or pick up a pamphlet with all of the latest information on what areas are open and what species you are allowed to take home. Don't forget, you need a valid fishing license, which you can buy at most hardware stores or on board a charter boat.

Whether you are dropping a line off the shore or hiring a charter for deep sea adventures, always abide by the fishing Washington guide lines.

Go from Fishing Washington Guide to the Washington Coast Adventures home page