Fly Fishing Washington
There are many fly fishing Washington locations. From streams to lakes to the ocean itself, there is no shortage of water in and around Washington State.
Fly Fishing Washington
Reproduced under a Creative Commons license with the kind permission of
Roger Lynn on Flickr
Fly fishing is not the kind of sport you can learn overnight. It takes years of practice. For most people it is a life long learning experience. Every year the fly fisher wants to improve his techniques and fine tune his skills a little bit more.

Fly fishing is all about the casting. This is what will either carry your fly out to the fish or fall flat in the water. The larger area of water you can effectively cover when you cast, the greater chance you have of dropping your fly where a fish is anxiously waiting for the bait to drop.

Your success depends largely on your knowledge, strength, endurance and ability to cast long and short distances in a wide variety of circumstances. Learning and practicing various casting techniques will let you place your fly exactly where the fish are waiting.

Knowing where the fish lie might be important, but when you present the fly with the right amount of finesse and cover the water adequately, the fish will come to you. That is why the most important part about being a successful fly fisherman is learning how to cast extremely well.

Fly fishing is a tireless sport. You have to absolutely love casting the fly rod, endlessly for hours upon hours at a time. It takes a lot of patience. You have to continually tease the fish with your fly. With practice you will learn how to cast in windy conditions and how to solve various casting problems. For fly fishing Washington gives many opportunities.

Fishing for Steelhead
Steelhead are basically the same species as rainbow trout. The only difference is that the steelhead is ocean going, like a salmon. Until recently, steelhead was considered a trout, but biologists discovered they are more closely related to salmon. Of all of the different salmon varieties, the steelhead is the most highly sought after by fly fishing enthusiasts.

This is partly because they put up such a good fight. They provide you with the challenge you look for when fishing. But, the main reason is that they are so hard to find. Their populations are low, so finding one is a challenge on its own. If you like fly fishing Washington is particularly good to catch steelheads.

The steelhead have two main runs per year – a winter and a summer run. Some waters have both runs, while others have only one. In general, the winter fish are larger than their summer counterparts. Unlike most salmon, the steelhead survives spawning and is able to spawn for several years.

The summer and winter steelheads both spawn in the spring. The summer steelheads begin their run to their natal streams as early as May and some don't finish until late fall. The summer fish usually travel longer distances than the winter fish. The winter steelheads generally start migrating in early winter with some still migrating well into spring.

The best time to target wild winter steelhead is from late January to early May. Your best chances for a summer steelhead is around August and September. Due to colder water temperatures, the winter steelheads are much less likely go for your fly.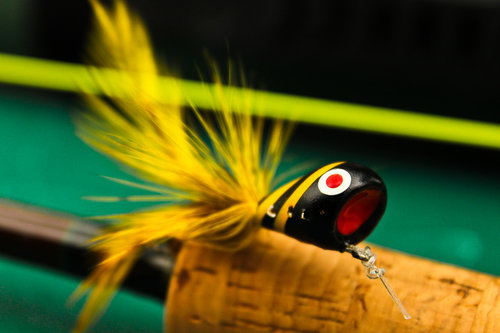 Fly fishing lure
Reproduced under a Creative Commons license with the kind permission of
Jah-hoo-ah on Flickr
Fishing for Sea-run Cutthroat
The sea-run cutthroat is famous for its aggressiveness towards a well presented fly, making them a thrill to fish for. These fish generally grow to about 12 to 18 inches, but much larger sizes have been caught. In spite of their small size, these fish are extremely strong.

There are thirteen subspecies of the cutthroat native to North America, but the sea-run cutthroat is the only variety that migrates to the ocean. These fish are great fun for inexperienced and experienced fly fishermen, alike.

The sea-run cutthroat begin running in from the sea to their natal streams in the late fall. Spawning takes place anytime from early winter to early summer. The fry may spend two to three years in the fresh water before heading out to sea. The sea-run doesn't actually go all the way out to the ocean. They tend to stay much closer to their natal streams than other Pacific salmon. Like the steelhead, the sea-run cutthroat are able to spawn many times.

The best time for fly fishing Washington streams for sea-run cutthroats is from late fall to spring. Many of the sea-runs, as well as many trout populations spend much of their lives in fresh water, so you can fish for them practically all year.

The sea-run cutthroat is not a shy fish, however they do move around a great deal. If you haven't seen or caught one within a reasonable amount of time, it's a good bet they have have moved on, and you should too.

A good place to find sea-run cutthroats is near oyster beds and in fast running water.

Fishing for Coho Salmon
The coho salmon is a favorite target amongst fly fishers because of their aggressive behavior towards the fly and because of their cool acrobatics once you get a hook into them.

The sizes vary greatly depending on the strain. The coho salmon found in northern Washington regions are about one third the size of the ones in southern Washington areas. They can range in size from seven to twenty pounds, with the majority coming in at around ten pounds.

The coho salmon prefer to lay their eggs in streams with a moderate flow and use small gravel for their nests. They spawn in the fall with fry emerging in the spring. Young coho stay in the freshwater for about a year and half before heading out to sea.

The best time to land a coho salmon in the estuaries is from late July to early August. They gradually move up river when fall rains raise the water levels. By September you can find them in fresh water rivers and streams.

There are many fly fishing Washington opportunities, no matter what type of fish you are trying to land. Be patient, work on your technique and soon you will be fishing like a pro.

Go from Fly Fishing Washington State to the menu page

Visit the Washington Coast Adventures home page