Washington State Travel Information
All the Washington State travel information you'll need for a visit to the Washington coast is collected in this handy guide. Before we go into specifics, let's talk about some general considerations.
Many of the areas we discuss on this website are quite remote. You should not bank on perfect cellphone reception along the entire Washington coastline.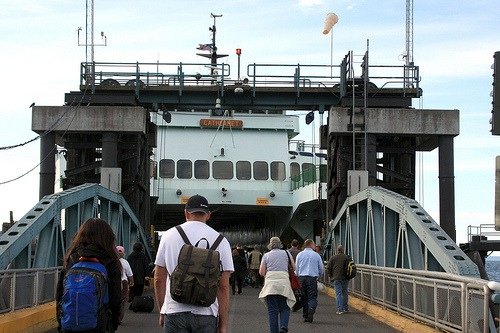 Read on for more information about the Washington State Ferry Schedule
No matter what the weather, a smart traveler is well-prepared with at least basic survival gear, even if driving in a well-maintained modern car.
The weather can change rapidly in Washington State.
In winter, the mountain passes may not always be cleared of snow; some close during the worst of the winter weather.
Washington State's ferries, so vital for moving between the various islands, are especially vulnerable to storms and other bad weather conditions.
Pay attention to local weather forecasts, and be prepared to make changes to your plans if Nature turns against you.
Hitchhiking is frowned upon in Washington State. It's illegal on the Interstates, and may be policed in local towns. If you're driving, our advice is not to stop for hitchhikers under any circumstances.
Washington State Highways
The major interstate routes are the I-5, which runs all the way from Blaine, WA, on the border with British Columbia, Canada, south through Seattle, Olympia, Portland and so well beyond the scope of this website.
The I-5 splits off around Seattle to form the I-90, which will take you all the way east to Spokane and into Montana.
Most of the areas we talk about on our website are well-served by highways. Few visitors to the Washington coast will not spend time on highway 101, which encircles the entire Olympic National Park.
If you're fond of driving along spectacular coastal highways, spare some of your Washington State travel time for highway 20, which will take you from the Mt. Vernon area around Fidalgo and Whidbey Island, through some of the coast's most beautiful scenery.
Washington Car Rental
All the national rental chains serve Washington State. While the airport locations may work out more expensive, it could be worth the extra for the convenience if you're planning to fly in and then drive to your final destination.
Washington Airports
As well as all the major airports, such as Bellingham International Airport and Seattle-Tacoma International Airport, there are numerous smaller airports.
Read more about airports in Washington State
Some regional and local airports may offer interesting tours; we'll cover these in time, as the website expands.
Washington State Ferry Schedule
The ferry schedule changes with the season, and with necessity during bad weather.
We'll do our best to provide information about the major Washington State travel ferries, but you should always check with the ferry operators for the latest schedule before you plan a trip.
NOTE: Washington State travel information correct at time of publication. Always check with your chosen destination before you travel.


Return from Washington Coast Travel to the Washington Coast Adventures home page