Westport Washington Fishing

Westport Washington fishing at its best begins with a qualified fishing charter. You can sit on the dock and throw in a line, but the best fish are farther out. Professional guides know where to find the fish and how to land the big ones. They will even do the cleaning for you.

If you are not that serious about landing a big fish and you don't want to get up that early, just head over to the Westport fishing boardwalk. This is the perfect place to toss out your crab pot and fish right off the pier. You likely won't catch your daily limit, but you will have loads of fun.

A third Westport Washington fishing option is to head out with your family or friends in your boat. You can leave when you are ready and not worry about missing the early morning launch time.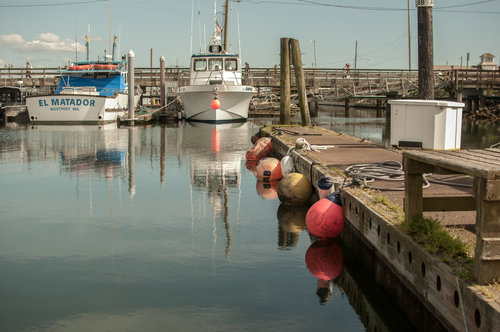 Westport Washington fishing boats
Reproduced under a Creative Commons license with the kind permission of
Emmett Anderson on Flickr
Westport has numerous high quality fishing charters ready and willing to take you on an adventure you won't soon forget. There are several different types of trips available and the costs vary depending on the type of fish you are after. Trips are available for all ages and all levels of fishing experience. Although, most skippers don't like to take children under the age of seven.

Most fishing charters offer a Chinook and Coho salmon trip, a rock fish and ling cod trip, a halibut trip, an Albacore tuna trip, whale watching tours, and combo trips. Every one provides an unforgettable adventure and thrilling experience. Plus, lots of delicious fish.

There are a few things you should know if you have never been on a chartered fishing trip. Of course, each outfitter is different and you will be provided with all of the rules and regulations of a particular boat, but in general, this is what you can expect:

What to bring
You will need to bring your own lunch, snacks and drinks, which you can bring in a small cooler – large coolers are not allowed. Coffee is usually provided, but if you want juice or pop, you need to bring your own. You should dress warmly, wear rubber boots and bring rain gear, just in case.
How far out you will go
A chartered boat will take you where the fish are. For salmon and bottom fish, you may only go about 20 miles. Halibut fishing tours are generally 25 to 50 miles and up to about 100 miles out for tuna.
Fishing gear
You don't need to bring your own gear. In fact, it is much easier for you not to drag all of your gear with you. The outfitter provides everything you need, including bait, at no extra charge.
How to fish
The team of professionals works hard to make your day perfect. The skipper and deckhand will show you exactly what to do to make sure you catch as many fish as you are allowed.
Fishing license
The State of Washington requires everyone over the age of fifteen to have a valid fishing license. The Fish and Wildlife authorities do make random checks and the penalties for not having a license are quite severe. You can buy an annual license online or at over 500 retail outlets throughout the state, or you can buy a one day pass for $10 right on the boat.
Seasickness
Most people never get seasick. But, it is a good idea to buy some over the counter seasickness medication, just in case. Ask the pharmacist which ones are best and make sure you follow the directions or they won't work.
Catching fish
The best part about a fishing charter is that the captain and deckhand will do all of the nasty work for you. You don't even have to touch the fish you catch, unless you want to. Your fish will be cleaned, filleted and packed into a bag. There is an extra fee for filleting, which is usually less than $10 per limit, not per fish. You can then pack the bags into your cooler and throw in some extra ice. The skipper doesn't supply the ice, you will have to buy it when you get back to shore.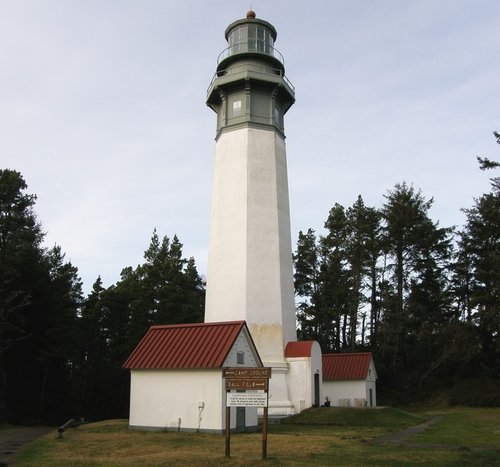 If you are at Westport Washington fishing, lookout for the Lighthouse, the tower is open to the public
Reproduced under a Creative Commons license with the kind permission of
Carol Munro on Flickr
Daily Fishing Limits
The skipper will inform you of the daily limits for each fish and not allow you to exceed these limits. He can get into just as much trouble as you can if he lets you fish more than you should. Westport Washington fishing limits are:
Halibut – One fish per person. Halibut fishing is usually limited to Sundays and Tuesdays.
Rock Fish – Ten per person. Rock fish are open year round.
Ling cod – Two fish per person. The season usually opens mid-March.
Salmon – Two Chinook, or two coho or one Chinook and one coho. The season usually runs from the end of June to mid-September, and only from Sunday to Thursday. No salmon fishing on Fridays and Saturdays.
Tuna – No limit. The season runs from about early July to mid-October, seven days a week.

There is absolutely no alcohol allowed on chartered fishing boats. In most cases, if you show up intoxicated the skipper will refuse to let you on board and you will not receive a refund.

The Fishing Derby
Every summer the Westport Charter Boat Association holds a fishing derby. Hundreds of dollars worth of prizes are up for grabs. Categories include largest bottom fish, salmon, halibut and tuna. For a small fee you can buy a ticket and try your luck and skill at landing the biggest catch of the day.

Whether it's off the pier, in your own boat or with a a chartered fishing tour, one thing is for sure, Westport Washington fishing is an incredible adventure you don't want to miss.

Go from Westport Washington Fishing to the Fishing Washington Guide menu page

Visit the Washington Coast Adventures home page