Port Townsend Hotels
Choosing which of the Port Townsend hotels to stay in will be one of your toughest choices. Which one do you want to call home? Each one has something special to offer.
The hotels are centrally located and within easy walking distance to everything this beautiful little town has to offer. And it has plenty to offer.
Just about every weekend of the year there is a festival or celebration of some kind. It is home to two wineries, a brewery and a beautifully restored Victorian theatre. Plus, all sorts of other fun and exciting thing to do.
But, before you start enjoying all of this excitement, you need to decide where to plant your temporary roots. Each B&B, hotel and cottage is just like a home away from home.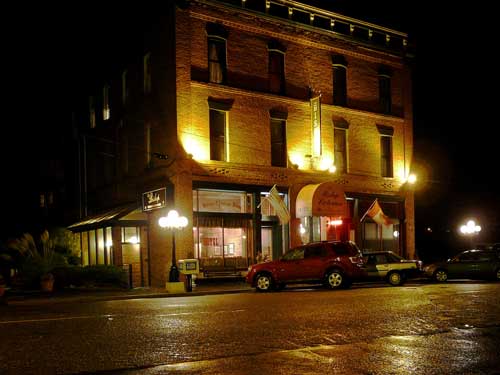 Port Townsend Hotels: The Bishop Victorian. Reproduced under a Creative Commons license with the kind permission of sea-turtle on Flickr
The Bishop Victorian Hotel
The Bishop is also located in the heart of everything Port Townsend has to offer. Within minutes you can be walking the sandy beaches or enjoying the fabulous museums. As one of the most elegant Port Townsend hotels, The Bishop is definitely a wise choice.
The registration center is an adventure on its own. It features fabulous decorating themes created by William Morris, amazing Victorian styled lighting and authentic antiques. After you sign in, you will definitely want to enjoy the lobby before heading up to your room.
Sit by the fireplace and enjoy all of the amazing artwork created by the best local artists, or challenge yourself with a puzzle. Maybe you would like to enjoy a relaxing game of chess before sampling all of the marvels Port Townsend has waiting for you.
The Bishop has sixteen luxurious suites of one or more bedrooms. Each one includes a romantic fireplace, private bathroom, a sitting room and a mini kitchen. Every suite is decked out with classic furnishings, historic lighting and couches that can be converted into extra beds.
Some of the suites are outfitted with luxurious soaking tubs, complete with cozy robes to snuggle up in after your bath. Bathroom amenities include the exclusive Bishop Victorian lotions and bathing products.
Unlike many of the Port Townsend hotels, the Bishop offers a complimentary breakfast in bed – well, in room, but close enough – and free access to the Port Townsend Athletic Club, just two blocks down the road.
All of the suites include basic cable TV service, free local calls from the in room phone, all dishes – including silverware and glasses, hair dryers and irons with table top ironing boards. DVD players are available upon request. Internet access is available in the lobby.
Plus! As if all of this was not enough to sway you towards The Bishop, the hotel is pet friendly and the gardens are absolutely breathtaking.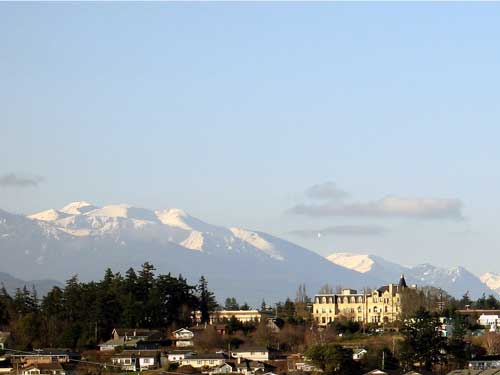 Port Townsend Hotels: The Maressa Castle. Reproduced under a Creative Commons license with the kind permission of tracy_olson on Flickr
The Castle
That's right. You can stay in one of the most famous Port Townsend hotels, an authentic Prussian-style Castle. The Manresa Castle is where all of your dreams come true.
Beautifully restored and maintained, spending a night here is a vacation all on it's own. The marvelous gardens, fantastic location and beautiful grounds make the Manresa the gem of the northwest.
You won't get breakfast or lunch. The dinning room is only open for dinner. But, don't worry, there are plenty of nearby restaurants to satisfy your hunger.
The Washington Hotel
The Washington Hotel is located in the heart of Port Townsend and just one block from the waterfront. The famous fountain and grand stairway leading to the elevated part of town are directly across the street. Heading south will take you to fabulous shopping opportunities and scrumptious dining experiences. Go north and you will find the marina and the famous Wooden Boat Museum.
The ferry to Whidbey Island is only four blocks away and the famous Fort Worden is a quick car ride up the road.
The first thing you will notice when you enter the Washington Hotel is that there is no lobby or front desk. No complicated check in or out process. You will feel more like you are a guest at a friend's house than staying in a hotel.
This small boutique-style hotel offers you modern comfort combined with a stylish design. The beds are super comfortable with down comforters and pressed linens. You will be tempted to stay in bed all day.
You have a choice of four rooms, which range from a small studio unit to a two bedroom suite and each has a private bath. There is a common kitchen area and free internet. In spite of its downtown location, the rooms are very quite and private.
Rates are very reasonable and there are always a variety of seasonal and weekday specials available.
The Swan Hotel and Cottages
The Swan is located on the waterfront. Keep in mind, when hotels or other rentals say they are on the waterfront, that actually means several feet, if not more, from the water. Laws and regulations do not allow any buildings on the beach. Many visitors, tourists and even potential property buyers always seem to be surprised at how far from the water a "waterfront" property really is. But, don't worry, within a minute or less you will be right in the Pacific Ocean.
The Swan is in easy walking distance of all of the fabulous things to see and do in Port Townsend.
The hotel features studios, suites and hotel-like rooms, as well as deluxe private cottages. These unique cottages are the only accommodations of this type in all of the downtown area.
The Swan is not a full service hotel, but they offer plenty of creature comforts. The front desk staff can be extremely helpful. They can give you information on the best places to shop, eat and what attractions to see. Plus, there is a huge selection of DVD movies you can use for free. And when you borrow a DVD, you get free microwave popcorn to go with the movie.
The rooms are extremely comfortable and come with a small fridge, microwave oven and fabulous television set – and DVD player, of course. The cottages also have a marvelous fireplace.
Spending the night in any one of these marvelous Port Townsend hotels is a vacation on its own. Combine that with everything Port Townsend has to offer and you will have the most wonderful vacation ever.
Go from Port Townsend Hotels to the Port Townsend, Washington menu