Port Townsend Wooden Boat Festival
The Port Townsend Wooden Boat Festival is a highlight of the year. As a town located on the beautiful Pacific Ocean, it is only natural that Port Townsend would be big in the boat building industry. The festival showcases the industry.
Port Townsend's Wooden Boat Festival is one of the most inspiring and educational wooden boat events in the world. The festival features more than 300 wooden vessels, and several hundred indoor and outdoor demonstrations and presentations. It is definitely a who's who of the wooden boating world.
Looking For More Events on the Washington Coast?
Check out our Washington State Tourism event calendar for loads of fun times!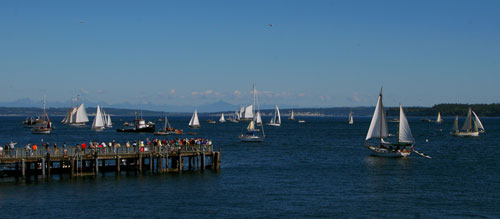 Port Townsend Wooden Boat Festival. Reproduced under a Creative Commons license with the kind permission of zenobia_joy on Flickr
Around every corner you find a slew of talented experts and wooden boat enthusiasts. There is no shortage of fascinating things to see and do. You can meet wooden boat builders as well as thousands of others as intrigued by these marvels as you are.
Every year the festival grows a little bit more. Even if you go every year, there will be something new to see next year. New innovations in boat building, exciting demonstrations, the latest equipment and new techniques provide a thrilling adventure for everyone.
What's Included?
Tickets prices are a donation to the year round programs run by the Wooden Boat Foundation. Prices include access to all boats, demonstrations and presentations, all exhibitors, musical performances, children activities and much more. A one day ticket is $15 for adults, and $10 for teens and seniors over 65. Multi-day tickets that cover admission for Friday, Saturday and Sunday are only $30, and $20 for teens and seniors.
The very first, and extremely successful Port Townsend Wooden Boat Festival was held in 1978. Since then the Wooden Boat Foundation has seen tremendous growth, serving approximately 145,000 people every year in its various educational programs, special services and amazing events.
The wild and wacky idea began as a vision of community embedded in the salt water hippie lifestyle. The idea was focused on boats and the ocean, and very quickly sparked a national interest among those eager to revive the love of wooden boats.
The first nationally recognized Port Townsend Wooden Boat Festival saw thousands of people from all over the U.S. and Canada, boats and tools in tow, eager to share this remarkable experience.
The organizers from that group acted as board and staff, cementing a commitment that is stronger than ever. Throughout the decades, the WBF along with an ever increasing number of marine trade businesses and maritime educational partners, continues to work with a true Port Townsend style and social responsibility.
The Foundation's largest and most popular program is still the internationally renown Wooden Boat Festival. However, this small non-profit organization also offers a well stocked, albeit selective Maritime Library, an active boat shop and a high quality chandlery. Located in the Point Hudson district, downtown Port Townsend, these places are open to the public year round.
The Foundation supports programs for children and adults at the Northwest Maritime Center during the spring, summer and fall. Programs include building experiences and education about wooden boats, and boating opportunities. Interest in these programs is continually growing, drawing larger crowds every year.
Through the Wooden Boat Foundation, local entrepreneurs, parents, teachers and other non-profit organizations have had the opportunity to create a variety of programs for all ages. These programs continue to grow and expand each year.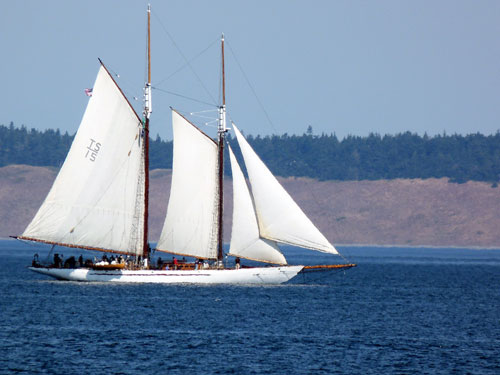 The Schooner Adventuress, at the Port Townsend Wooden Boat Festival, WA. Reproduced under a Creative Commons license with the kind permission of druidlabs on Flickr
The Historic Tall Ship Adventuress
Hundreds of wooden boats come from all across the northwest. One of the biggest attractions is the Historic Adventuress. This 98-year-old tall ship is a huge hit. Thrilling to see and even more thrilling to ride.
The vessel is a National Historic Landmark. It is owned and operated by the nonprofit organization, Sound Experience. During the 2011 festival, two sails were offered daily. Visitors were welcomed to board the ship and help raise the sails. Some lucky patrons were even allowed to take the helm during the fascinating trip on the Port Townsend Bay.
Whether the ship will be brought in for this year's festival has yet to be announced.
Sound Experience educates, inspires and strives to empower every one to care for Puget Sound. The organization offers daytime and over night programs for schools, youth groups, adult groups and families wanting to sail throughout ports from the Puget Sound to San Juan Island areas.
The Regattas
The Wooden Boat Regattas are more than just races. The Wooden Boat Foundation considers these competitions a celebration of traditional seamanship and true maritime camaraderie. The regattas are a rekindling of all of the friendships that have developed over the years.
There are two regattas held each year and both feature breathtaking views, clear skies and perfect ten to fifteen kph winds. Temperatures are usually above 60 degrees Fahrenheit and all who enter are guaranteed a perfect start.
In case the weather does not cooperate, competitors are invited to enjoy free coffee, free beer from the Port Townsend brewery and a great tasting meal at the awards ceremony.
If you want to share your wooden boat building skills, learn the art of boat building, or just have a great time exploring all of the fascinating exhibits and seeing the marvelous boats, then the Port Townsend Wooden Boat Festival is something you do not want to miss.
Go from Port Townsend Wooden Boat Festival to the Port Townsend, Washington menu
Visit the Washington Coast Adventures home page