Fort Worden State Park

The Fort Worden State Park sits on four hundred and thirty-four acres of land overlooking Puget Sound. The multi-purpose park has more than two miles of shoreline and offers visitors a variety of accommodation choices. Many of the original buildings have been restored and still stand in this 19th century military fort.

Fort Worden is now pet friendly. You can have up to two well-behaved dogs in certain units. There is an additional charge and reservations have to be made ahead of time.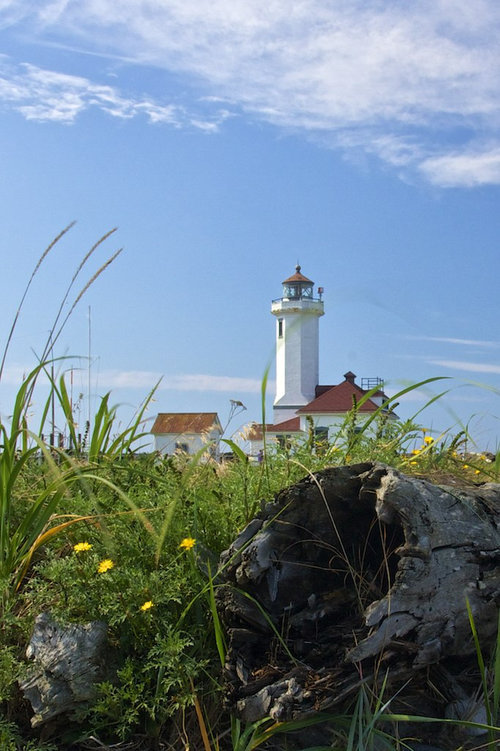 Lighthouse at Fort Worden State Park
Reproduced under a Creative Commons license with the kind permission of
nullsynapse on Flickr
The Fort was originally built as a United States Army installation to protect Puget Sound. It was named after John Lorimer Worden, a U.S. Navy Rear Admiral who commanded the USS Monitor during the American Civil War.

The base was active from 1902 until 1953. The State of Washington bought the land and buildings in 1957 to use as a juvenile detention center. In 1971, use of the entire area was transferred to the Washington State Parks and Recreation Commission and the park was created. The Fort Worden State Park officially opened in 1973.

Admiralty Inlet had such a strategic location for defending Puget Sound that in the 1890s three forts, Fort Flagler, Fort Casey and Fort Worden were erected at the entrance. The giant guns at each fort created a "triangle of fire" designed to thwart any invasion attempts from the sea.

None of the forts ever had to fire a hostile shot. During WWI, the guns were removed to be used in Europe. No longer needed for defensive purposes, Fort Worden became a training center for a variety of military applications.

Camping in the Park
You can enjoy this historic fort in two delightful and scenic campgrounds. There are 80 sites that can be reserved up to one year in advance. Each of the campgrounds are equipped with restrooms and showers. The maximum length of the sites is 75 feet and availability may be limited.

The beach campground has fifty fully serviced RV sites with hookups for water, power and sewage. It is snuggled between the beaches of Port Wilson and the bluffs. Sites are level and spacious and many feature a breathtaking view of the Strait of Juan de Fuca.

The upper campground has thirty RV sites with hookups for water and power and a nearby dumping station for sewage. The sites are mostly forested and offer some privacy. From here you have access to many miles of hiking trails.

You are encouraged to reserve a spot, as the sites tend to fill up quite quickly, year round. After Thanksgiving the campgrounds change over to winter water until just before Presidents Day, depending on the weather.

Fort Worden also offers an RV rally site for special groups. Qualifying groups are required to have at least ten, but not more than twenty-two self contained RVs.

Unique Accommodations
The Fort Worden State Park Conference Center has a huge variety of accommodations. With 456 bedrooms, the Center is capable of hosting large family vacations or reunions, conferences or retreats. You can choose from hundred year old officer's quarters, a castle, one room houses or dormitories.

Houses
Fort Worden has 35 housing units that may be rented any time of the year. The houses range from one bedroom to six bedroom units. Each has a living room, dining room and fully equipped kitchen, including appliances, dishes, utensils and cookware.

Officer's Quarters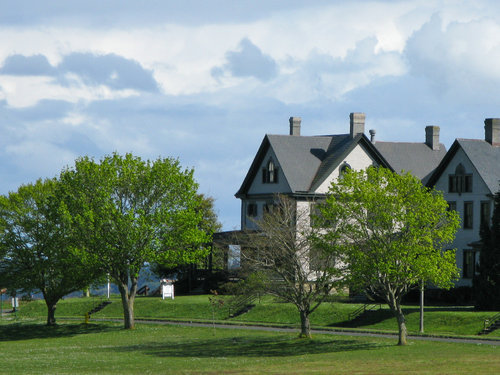 Officers Quarters at Fort Worden State Park
Reproduced under a Creative Commons license with the kind permission of
JBYoder on Flickr
There are eight houses and one apartment building, originally built between 1904 and 1915. They served as homes for officers stationed at Fort Worden. The apartment building has twelve units. It was home to unmarried officers.

The third floor of the homes were originally used as servant's quarters. Seven of the houses have been converted to duplexes and one has been turned into a four unit apartment.

You can reserve a barbeque in advance. Most of the units have at least one fireplace, but you can only use compressed fuel logs. Each comes with a fully equipped kitchen.

Non-Commissioned Officer's Quarters

These five duplexes and four single houses were also built between 1904 and 1915. They were intended for NCOs with families. Some of the houses have been converted into single units and one has been transformed to comply with the Americans with Disabilities Act.

You can reserve a barbeque and all kitchen are fully equipped with dishes, appliances, utensils and cookware.

Alexander's Castle
This is a small one bedroom, 1.5 bathroom unit located in the mini castle built by Reverend John Alexander. It reopened in 2005 after renovations. It is the second most sought after place to stay at Fort Worden State Park. Alexander's Castle features a propane fireplace and the most spectacular views.

It is the oldest building on the Fort Worden State Park grounds and has the most colorful history. Legend has it that Rev. Alexander built the castle for his finance, in a style similar to those in his native land, Scotland. He acquired the ten acres of land near Point Wilson in 1883 and built the building that came to be known as Alexander's Castle.

He intended the castle to be a home for him and his bride. Unfortunately, when he went to get his bride-to-be from Scotland, Alexander discovered she had already married someone else. He went back to Port Townsend alone. He used the castle as a temporary residence.

During the army days, the building served as a post exchange, then a tailor shop and various other purposes.

Blissful Vista
This two bedroom, one bathroom unit is the most popular of all. The Blissful Vista was originally part of the World War II housing. It features an unobstructed view of the beach and the Strait of Juan de Fuca. The secluded and quiet location is perfect for a honeymoon or romantic getaway. The unit has a fireplace and has recently been stylishly updated.

Madrona Vista
These barracks are ideal for hosting a retreat or for reunions. There are 11 bedrooms, and 4 full bathrooms. The super large kitchen has enough dishes, utensils and cookware to accommodate up to 23 people, plus two stoves and refrigerators.

Dormitories
The dormitories, built in 1904 were the soldier's barracks. These days the dorms are used for conferences as well as overnight accommodations. The building has private individual rooms and large open sleeping bays. There are ample restroom facilities and is able to comfortably accommodate up to 365 people. Many of the dorms have large meeting areas and the first levels of two of the dorms comply with the Americans with Disabilities Act.

For a great vacation by the sea and a real taste of history, you have to visit Fort Worden State Park.

Go from Fort Worden State Park to the Port Townsend, Washington menu

Visit the Washington Coast Adventures home page