Cape Disappointment is a Jewel of the Washington Coast
Despite the dubious privilege of being one of the foggiest places in the US (with 106 foggy days per year on average!), Cape Disappointment, on Long Beach, is one of the most beautiful Washington State attractions, and a must-see if you're vacationing on the Washington coast.
With around 200 camping spots over more than 1,800 acres, it's one of the dramatic coastal Washington State camping locations and strongly recommended if you like your scenery rough and rugged.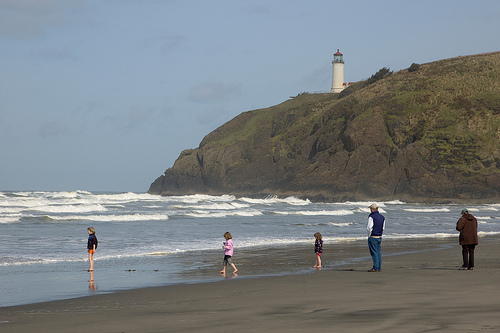 On the beach at Cape Disappointment, Washington State. Reproduced under a Creative Commons license with the kind permission of djwudi on Flickr
The lighthouse is the oldest still functioning in Washington State. Built in 1856, the lighthouse has saved countless lives in this treacherous location, where some 2,000 vessels have been lost over the years.
Explore more than two miles of ocean beach front, or strike out onto the hiking trails and let the sea air and stunning views take your breath away!
NOTE: Information correct at time of publication. Always check with your chosen destination before you travel.


Cape Disappointment State Park: Attractions
Lewis and Clark Interpretive Center
History fans will not want to miss this fascinating stop. Follow the most famous trek across the continent of North America with an interactive presentation, plus real artifacts collected by the explorers on their 8,000 mile journey.
Lewis and Clark Interpretive Center
North Head Lighthouse
This 1898 beacon is open to the public for tours, though children aren't allowed due to the steep stairs inside.
North Head Lighthouse
Columbia Pacific Heritage Museum
Another great destination for visitors interested in history, this museum features Chinook Indian artifacts, a restored passenger railcar plus working narrow gauge railway replica, and a model of an early 20th Century seaside town; in other words, something for everybody!
Columbia Pacific Heritage Museum
Have Your Say!
If you've visited Cape Disappointment and want to share a discovery: a unique place to watch the sun set, a perfect hiking trail, or just a memorable photo from your last Washington coast vacation, we want to hear from you!Use this simple form to tell us about it. You can share images or comment on and rate existing reviews.
Review Washington State Tourist Attractions
Review any of the Washington State Tourist Attractions using this simple form.

Simply click and type to enter your review. But if you require help, click on any of the question mark icons.
Return from Cape Disappointment to the Washington State Attractions Menu


Be sure to discover all our Washington Coast Adventures!