Sequim Motels

Sequim motels are the ideal place to stay when you visit this beautiful area. There are plenty of great places to stay. From cozy cottages to affordable Sequim motels, you are sure to find something to suit your needs and your budget.
There is too much to see and do in Sequim, Washington to fit it all into one day, you will definitely want to find accommodations so you can stay longer.

The number one attraction in the area is the Dungeness National Wildlife Refuge. The refuge is home to more than 250 species of wildlife and a breeding ground for many native birds.

The Olympic Game Farm is considered the second most famous and popular destination when vacationing in Sequim. However, some visitors have a hard time deciding which wildlife reserve is really the best.

The area is also famous for its many small lavender farms, the third most visited attraction. Every July, Sequim hosts the largest lavender festival in North America. The acres and acres of purple flowers and the glorious fragrances are truly worth the trip.

In town you will find museums, quaint little shops and plenty of great places to eat. After your exhausting day of hiking, boating, swimming and beachcombing, you will be glad to get back to one of the fabulous Sequim motels for a good night sleep.

Where to Stay
Econo Lodge – As the name suggests, prices are very reasonable. You can have up to two pets in the ground floor rooms, but smoking is prohibited. The rooms feature a microwave oven and a refrigerator, and include a continental breakfast.

Holiday Inn Express – This motel is considered mid-scale. No smoking and no pets allowed. It features an indoor heated pool. This is the ideal place to stay if you want to take a day trip to British Columbia or Olympic National Park. The motel is conveniently located close to many attractions, but the scenic surroundings make you feel like you are in the middle of nowhere.

Holiday Plaza – Also rated mid-scale. The hotel is pet friendly and features an indoor heated pool. Conveniently located near many attractions, including the Lavender Festival.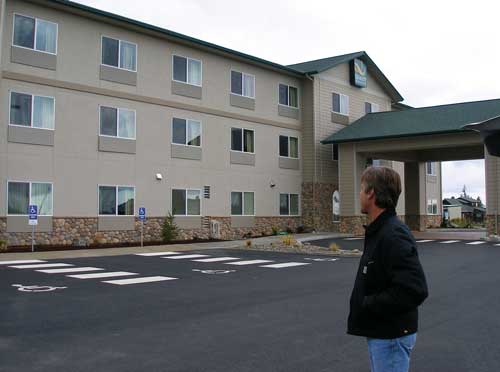 Quality Inn & Suites, one of the nicest Sequim motels.
Reproduced under a Creative Commons license with the kind permission of
dennissylvesterhurd on Flickr
Quality Inn & Suites – Rated as the best mid-scale place to stay in Sequim, this hotel features an indoor heated pool and an exercise room. You can have up to two pets. The rooms are non-smoking.

Juan de Fuca Cottages - Staying at the Juan de Fuca cottages is more like a vacation than just a place to stay. By far the most fabulous Sequim accommodations available. You can rent a bicycle and explore the surrounding farmlands or tour more than 50 miles on the Olympic Discovery Trail.


Easy day trips from any one of the Sequim Motels:
Hurricane Ridge – This is a must see jewel located in Olympic National Park. The seventeen mile drive up the ridge takes you to an elevation of 5,200 feet. The spectacular mountain views are absolutely stunning. Hiking trails range from relaxing to quite challenging, making it possible for every one to enjoy this natural wonder.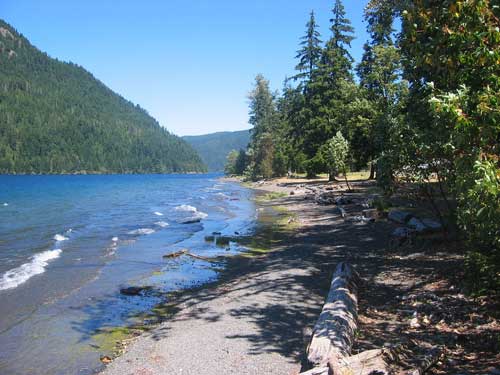 Quality Inn & Suites, Sequim, WA.
Reproduced under a Creative Commons license with the kind permission of
stewickie on Flickr
Lake Crescent – The twelve mile, crystal clear Lake Crescent in just 17 miles west of Port Angeles. Carved from glaciers, the lake is perfect for swimming, canoeing and fishing. You can slip into the wilderness and soak up all of the splendor. Pack a picnic or stop by the Lake Crescent Lodge for lunch or dinner.

Sol Duc Valley – Wind your way through the valley. Along the way you will see the Salmon Cascades and the Ancient Forest. Sol Duc Resort offers fine dining, a quaint gift shop, a fresh water pool and three mineral pools. You won't want to miss the spectacular Sol Duc Falls.


Hoh Rain Forest – This is another must-see natural wonder. The moist ocean air brings over 150 inches of rainfall per year, which with the help of the Sitka spruce and the nurse logs creates the only temperate rain forest in the northern hemisphere.

Makah Museum – This internationally renown museum is home to the archeological discoveries from the Makah Coastal village of Ozette. This ancient village was 15 miles south of what is now Neah Bay. Ozette was home to the Makah people well into the 20th century. A tidal erosion in 1970 exposed a cluster of perfectly preserved Ozette homes dating back approximately 500 years.

Each of these destinations will take up a full day, so make your reservations at one of the nearby Sequim Motels and let the adventure begin.

Go from Sequim Motels to the Sequim, Washington menu

Visit the Washington Coast Adventures home page