Dungeness National Wildlife Refuge
Dungeness National Wildlife Refuge which can be found in the Washington County of Clallam, is one of Washington State's attractions.
This refuge was designed to provide a safe area for the various birds of the area to protect them and to give them a place where they could feed and breed. In addition to this, many species of aquatic wildlife also use this area as a sanctuary as well. This makes it a great place for the nature enthusiast to explore the creatures in the wild and to learn about many of the wild plants that grow in this area as well.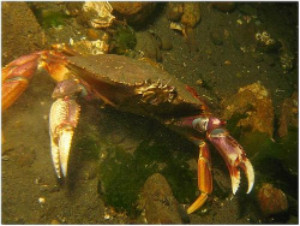 Dungeness Crab, Washington State.
Reproduced under a Creative Commons license
with the kind permission of Dan Hershman on Flickr.
A visitor to the Dungeness National Wildlife Refuge will note that the area has several different areas to explore across the 636 acres that is contains.
For example, visitors are going to find everything from the sand spit to endless beaches, forests and even some impressive formations that attract visitors to one of the most popular Washington State attractions from across the world to this location.
This is of course not a new area either.
The Dungeness National Wildlife Refuge has been established for almost 100 years now since President Woodrow Wilson chose to establish it as a registered refuge January 20, 1915.
During this time, visitors have had a chance to see this peaceful area and enjoy the beauty, knowing that it is to remain unharmed by any modern developments that come up in the surrounding areas.
New Dungeness Light House, Washington State.
Reproduced under a Creative Commons license
with the kind permission of Binnur Gul on Flickr.
While visiting in the area, there is also the New Dungeness Lightstation that will prove to be an experience that many people will want to experience. This is a full day hike that will take you down a 10 mile roundtrip hike that will let you explore the lightstation and to have a chance to experience it firsthand. This of course makes it one of the more hands on Washington State attractions you will find.
Called by a few different names, the New Dungeness Lighthouse is one that has been named after the Dungeness Point where it located. Building of this location was completed on December 14, 1857 and it was the first of four that was set to be built in the area thanks to a Congressional Act that was passed in 1850. What followed was a building in 1895 that would allow keepers to stay in a Cape Cod home while they cared for the lighthouse.
By 1915, when the Dungeness Wild Life Refuge was established, the US Fish and Wildlife took over the area and began to maintain it. This would continue until 1927 when weather caused the tower to become dangerous and the tower was reduced in size from 100 feet, down to 63 feet in height. The brick then was tossed in this area and remains visible to visitors who stop in.


By 1994, the individuals who maintained the lighthouse changed over to the current individuals, the United States Lighthouse Society who uses the New Dungeness Chapter to help maintain this location. Every two weeks, a rotation of individuals comes in and they help to care and maintain this lighthouse. This includes ground and building care as well as providing tours for those who come to visit. This is just one of the top reasons that people consider this to be one of the most amazing Washington State attractions that can be found. The Dungeness Wildlife Refuge is a location that offers not only a considerable amount of history to the local area, but it is also one that is going to provide visitors with the chance to explore native Washington wildlife as well. Those who are looking for an educational experience that combines a considerable amount of history, nature studies and the chance to be physically active will enjoy their visit to this location.
Best of all, there will be little doubt that anyone who visits the Dungeness Wildlife Refuge will create a remarkable memory of this beautiful area. Of course, those who are looking to explore the Washington area in depth and learn about other options that they have, may want to visit the Washington Coast Adventures Blog, where they can learn about more of the exciting Washington State attractions that you and your family can enjoy.
Have A Great Story About This Topic?
Do you have a great story about this? Share it!
Washington-Coast-Adventures.com Blog

Return to Washington Coast Adventures Home Page from Dungeness National Wildlife Refuge