Sequim Game Farm
The Sequim Game Farm is home to many marvelous domestic and exotic animals including zebras, bears, tigers, lions, cougars and elk.
The farm was founded by Lloyd Beebe. His love for the outdoors and specifically for the wildlife in the state of Washington, become a bit of an obsession. He enjoyed roaming the mountains and became quite adept at observing the local wildlife unnoticed.

In his younger days he worked as a logger, but the dream of owning a place to call his own kept nagging at him. In 1942, that dream finally became a reality. He was able to buy some farm land and started dairy farming. This land eventually transformed into the Olympic Game Farm in Sequim, Washington.
Entrance to the Sequim Game Farm.
Reproduced under a Creative Commons license with the kind permission of
Beaster725 on Flickr
His passion for wildlife didn't dwindle, however. Every chance he got, he would be out observing the animals in their own habitats. It occurred to Lloyd that others might enjoy seeing these marvelous animals, as well.

Taking a group of people up into the mountains would surely destroy the natural beauty, so he did the next best thing – he began photographing and filming the animals. Of course, he was not a rich man at this time. Acquiring that first film camera took some fancy financing. His conviction that this was a good idea was so deep, he put his car up for collateral.


Around this time, Walt Disney Studios had begun production of their first nature films. Beebe's films were getting better the more he practiced, and he couldn't help dreaming Disney might be interested in some of his footage. He also felt schools and other organizations might benefit from his films.

With expert advice from Patsy Sinkey, who made films for the Wildlife Department, Lloyd learned invaluable tricks and techniques to improve the quality of his work. With Sinkey's help, Lloyd produced his first short film in 1947, "The Little Archer," with his five year old son as the human star.

The animals in the film were wild orphans, a fawn, bear cub and cougar cub Lloyd and his wife had rescued and were raising on the farm.

Warner Brothers bought the film for $2, 000. Patsy Sinkey got half for her help and the rest went towards a new camera for Beebe.

Lloyd finally made contact with Walt Disney and they developed a relationship that would last well into the 1970s. His first Disney film, "Vanishing Prairie" featured juvenile cougars. For the next film, "Wild Wilderness" Disney wanted wild Canadian wolverines.

Wolverines are ornery creatures and do not like humans, or any other animals for that matter, to get too close. In spite of this, the Canadian Game Department furnished Lloyd with five of the beasts. Beebe had the unenviable task of taming and training them for their feature role in the film.

His patience and endurance paid off. He managed to tame the wild animals to the point where they were actually eating out of his hand and with only a few minor set-backs, the film was produced on schedule. Other films had him traveling to Antarctica and various other locations.

By 1962, he began doing more filming on the farm and surrounding areas, and less out in the wild. When a scene could not be shot properly in the wild, a trained animal from the farm would be used. This meant more and more orphaned and endangered animals were being brought to the farm.

As well as the film work, Lloyd and his wife were becoming more involved with the animals on another level. To help ensure the survival of endangered species, they were contributing to zoological sperm banks, and donating blood for scientific research.

After the death of Walt Disney in 1965, the film work began to drop off as Disney Studios moved farther away from nature films. Beebe and his wife took their savings, which was quite substantial by this time, and built their dream home, as well as better, more secure housing for the animals.

With permission from the Disney Studios to use the Disney name, they created the Olympic Game Farm. It was opened to the public in 1972. At this time only guided tours were offered.

The historic Studio Barn, built in 1862, the property and the animals were used in more than 100 motion pictures with Disney Studio, Suncest Productions and many other production companies. Filled with many classic movie sets, props, antiques and various memorabilia from their filming days, the Barn and all of its contents was left to Lloyd in 1972 when Roy Disney died.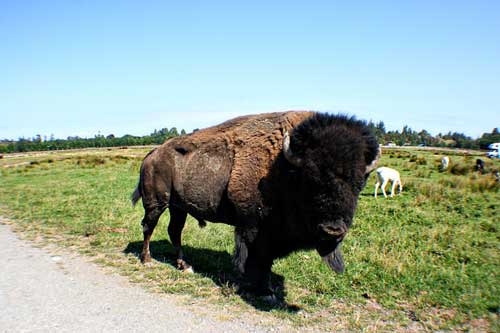 An American Bison at the Sequim Game Farm.
Reproduced under a Creative Commons license with the kind permission of
thebrokenone on Flickr

The Animals

The Sequim Game Farm is home to thousands of beautiful animals. Some of the animals include:

Zebra – Three of the original four species of zebras are still in existence. The quagga became extinct in the late nineteen century, however recent re-breeding techniques from zebra DNA show positive signs of a comeback.

American Bison – Also known as the buffalo, bison are natural grazers. During the winter they move south and back north in the spring. In the wild they have been known to mate with cows, and just as with a mule, the offspring are usually sterile.

Bengal tiger – The Bengal is slightly smaller than the Siberian tiger. This beautiful creature alone is worth a trip to the Sequim Game Farm.

There are many more animals to see. You will find lions, bears and even prairie dogs, just to name a few.

There are three types of tours available:

• The driving tour – available every day of the year except Christmas and Thanksgiving.
• The drive and walk tour – available only from the end of May to the beginning of October.
• The walking tour – available only in the summer. Walking tours include a trip to the petting farm, a visit to the freshwater aquarium and a guided tour through the historical studio barn and education center.

Admission is very reasonable and worth every penny. The latest addition to the Sequim Game Farm is Hardy's Market. Here you can enjoy ice cream, espresso, burgers, wraps, subs and just about anything else your tummy desires.

Your visit is to the Olympic Peninsula will not be complete without stopping by to see these magnificent creatures at the Sequim Game Farm for yourself.

Go from Sequim Game Farm to the Sequim, Washington menu

Visit the Washington Coast Adventures home page