Sequim Lavender Festival
The Sequim Lavender Festival is the largest festival of its kind in all of North America. It includes tours of seven spectacular lavender farms, and a fabulous street fair in downtown Sequim, Washington.
Come and enjoy fields of lavender, plenty of sunshine and loads of fun as this Olympic Peninsula town celebrates the beauty of this sweet smelling herb during its peak blooming season in July.

Since 1996, Sequim, Washington has held an annual lavender festival. What started out as a small celebration has grown into a three day event that is fun for the whole family.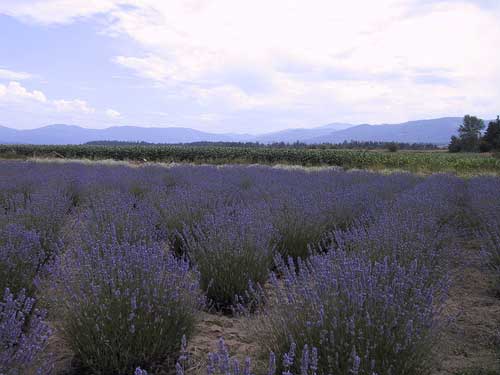 Sequim Lavender Festival, WA.
Reproduced under a Creative Commons license with the kind permission of
eutrophication&hypoxia on Flickr
The farm tours give you an up close and personal look at the amazing growing fields. You must love the smell of lavender, because when you leave, the wonderful aroma goes with you. The sweet smelling fragrance will linger on long after you leave the farms.

You will learn how the farmers cultivate the blossoms and about all of the many ways lavender is used. The farms themselves provide plenty of amenities and entertainment for you to enjoy, such as gift shops, craft tables, live music, pick your own blooms, and of course, food. The choices vary from one farm to next the next, so don't fill yourself too much on your first tour.

At the street fair you will find everything lavender – from lavender oils and lotions to sachets and wands. You can even try some lavender lemonade.

Experts are on hand with live demonstrations on techniques and tips on how to grow your own lavender. Everything from soil conditions and the best place and time to plant your lavender, to how to use lavender and how to brew lavender tea.

New for 2012 is free farm tours. In the past admission was charged to go on a tour. The tours will highlight all of the wonderful small farms in the valley.



Street Fair
The Street fair is held on Fir Street, downtown Sequim, Washington. There is plenty of free parking all around in the downtown area. Admission is also free. There are an estimated one hundred and fifty booths filled with lavender products and fresh blossoms, music, food and many more exciting things to see and do.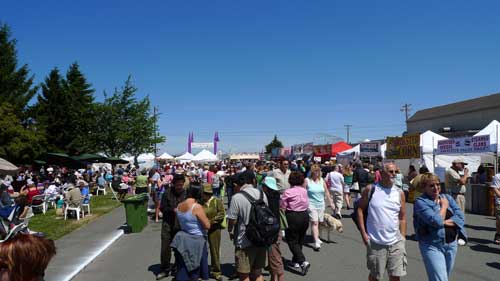 Street Fair at the Lavender Festival, Sequim, WA.
Reproduced under a Creative Commons license with the kind permission of
camknows on Flickr

Free parking is also available at the JC Penny parking lot on the west side of town and at the QFC lot on the east side. There is a free shuttle service running between the parking lots and the street fair every 15-20 minutes from 9 am to 7 pm on Friday and Saturday, and 9 am to 6 pm on Sunday.


You will find a vast array of colorful booths offering unique handcrafted products, lavender products, original art work and organic crafts from vendors across the Northwest. The food court is filled to the brim with mouth-watering delights and the beer and wine garden features Olympic Peninsula wineries and breweries.

Fir Street is closed to traffic, as is part of Second Street. The food court is located on Second St. The beer and wine garden is right behind the food court. On the corner of Fir and Second streets is the official Sequim Lavender Festival merchandise booth. You will certainly want a little memento of the marvelous festival to take home.

Restrooms and visitor information centers are spread evenly throughout the festival area. The athletic field, across Fir Street from the food court, features more vendors, live animals and a stage where live entertainment will be held. There is a second stage across the from the food court.

Booths open at 9 am, Friday, Saturday and Sunday. Festivities wrap up around 7 pm on Friday and Saturday, and at 6 pm on Sunday.

Come for a day, or stay for the entire weekend. The Sequim Lavender Festival is one event you do not want to miss.

Go from Sequim Lavender Festival to the Sequim, Washington menu

Visit the Washington Coast Adventures home page