Discover the Magic of Washington State Camping
There's no experience quite like Washington State camping. The huge variety of terrain, environment and altitude allows for a unique experience every time you visit.
Like many of the country's most beautiful camp sites, Washington State is a very affordable place to pitch your tent or park your RV. You can bask in the natural beauty of a State park, camp on a mountain side, or sleep beside the beach and wake to the sound of the mighty Pacific ocean crashing against the shore.
Camping in Washington State. Reproduced under a Creative Commons license with the kind permission of Jesse Bikman on Flickr
Washington Coast Adventures is proud to present a round-up of the best spots in the State to take yourself or your family on a camping vacation. We also link from this page to other pages of our website which will be of interest to campers.
Top 10 Washington State Camping Destinations
Olympic National Park
There are 16 camping areas inside the Olympic National Park, with over 900 spots for campers to enjoy, all priced at under $20 per night.
This vast and wonderful park is a haven of natural beauty, and enjoys a huge variety of terrain types.
Mountain camping fans in particular will be spoilt for choice.
See our page on Olympic National Park for more on this must-visit location.
Our Olympic National Park guide will tell you everything you need.
Whidbey Island
To call this a single place is misleading, as Whidbey Island – the largest island in the Puget Sound – has dozens of Washington State camping destinations, including Deception Pass (see below).You could spend multiple vacations exploring Whidbey Island. Its strong point is seaside campsites, but there is plenty of variety for people seeking a mixed vacation.
Visit our Whidbey Island page for more information.
Cape Disappointment
The beautiful Cape Disappointment State Park includes the oldest lighthouse in Washington State. There are more than 200 camping spots available, with the highest-priced being $28. You can rent yurts or cabins.
We have a page dedicated to Cape Disappointment elsewhere on the site.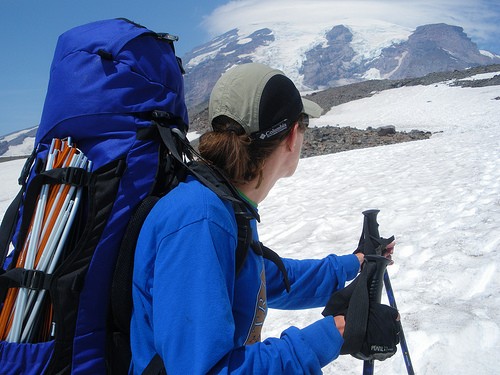 Camping in Washington State. Reproduced under a Creative Commons license with the kind permission of tbone_sandwich on Flickr
Deception Pass
With over 4,000 acres of incredibly beautiful and varied landscape, including both freshwater and saltwater shorelines, Deception Pass has something for everybody. With 300 camping and utility spots, there should be enough to satisfy demand in high season. Note that US Air Force jets often fly low in the area, and may add more "local color" than you'd wish for!
Visit our Deception Pass guide.
Fort Worden
A beautiful setting at the entrance to Puget Sound, Fort Worden has plenty of historical and cultural attractions, plus over 400 acres of natural beauty. The limited camping areas fill up fast, and may be reserved for up to a year in advance. Don't take a chance, and plan well ahead. The two sites are beach (lower) and hillside (upper).
Grayland Beach
One for ocean lovers, Grayland Beach is located just south of Grayland, and enjoys more than 7,000 feet of ocean frontage. This Washington State camping area is renowned for kite flying, and is an obvious choice for people who want to spend a lot of time beach combing, fishing, kayaking and enjoying the sea air. It has nearly 100 camping spots and 16 yurts.
Larrabee State Park
Larrabee is a very large park, with only 80 camp sites.
Its 2,600+ acres features both saltwater and freshwater shoreline, and a huge variety of terrain and landscape.
Booking in advance is strongly recommended because supply is much less than demand in high season.
Pacific Beach
No prizes for guessing the attraction of the Pacific Beach camp site.
Its 64 sites are right on the ocean, which can make for a windy stay in wilder weather. If oceanfront views and the manifold attractions of the sea are your thing, it's hard to go wrong here. Pacific Beach is also a paradise for birders.
Check out this Pacific Beach, Washington guide.
Sequim Bay
In the rainshadow, Sequim Bay is an area of natural beauty. This is a great choice of camping destinations for somebody who appreciates peace and quiet; there are only 64 spots in this marine campground, which enjoys stunning coastal scenery.
We have an entire page on Sequim, Washington here.
Salt Creek
Two campgrounds in the Salt Creek recreation area give a vastly different experience; you can camp in the forest, or (the more popular location) with a full view of the water. The latter is more difficult to reserve, and you should book well ahead of time.
NOTE: Information correct at time of publication. Always check with your chosen destination before you travel.


Have Your Say!
Been to a Washington State camping site that's not on this list? Use this simple form to tell us about it. You can share images from your vacation, and rate existing reviews.
Review Washington State Tourist Attractions
Review any of the Washington State Tourist Attractions using this simple form.

Simply click and type to enter your review. But if you require help, click on any of the question mark icons.
Return from Washington State Camping to the Washington State Tourist Attractions Menu


Be sure to discover all our Washington Coast Adventures!