Discover Lovely Pacific Beach, Washington State
Pacific Beach in Washington State is perfect for people looking for a beach side resort in the Pacific Northwest. Located just outside Pacific Beach State Park, Pacific Beach boasts miles of white sandy beaches and a beach side lifestyle that might make you think you are closer to the equator than you actually are.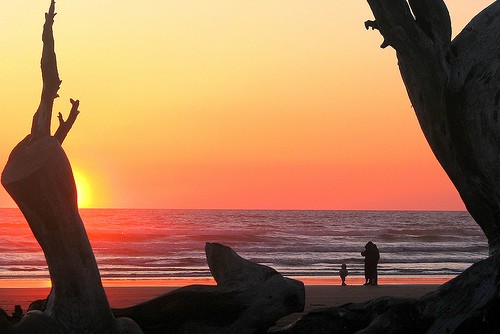 Sunset on Pacific Beach, Washington State. Reproduced under a Creative Commons license with the kind permission of MïK on Flickr
Pacific Beach State Park is open year-round. It offers 10 acres of camping, with more than 2,000 feet of Pacific shoreline. You can walk the beach in search of driftwood, or sit by a campfire on the white sands at night and gaze up at the stars, listening for the call of the whales just off shore.
Pacific Beach is everything a beach side town should be, plus a whole lot more.
It is inviting, with sandy streets and little shops and homes.
It is a quiet coastal town with a rich history of seamanship and coast life that stretches back a century or more.
Where to Stay
Consider a stay at the Beach Avenue Bed & Breakfast right next door to the Pacific Beach State Park.
The ocean is just outside your door. Listen to the waves crashing all night long, soothing and relaxing. In the morning hit the beach for a leisurely stroll and take in the sights and smells of seaside living.
No pets are allowed at the Beach Avenue Bed & Breakfast and no smoking, but if that's what you need, consider a stay at Joey's Beach House. These luxury vacation rentals offer accommodations which are unmatched in the Pacific Northwest with a great view of the ocean.
The Pacific Beach Inn and Love Shack Cabins each offer great rooms not too far from the beach at reasonable rates, between $55-$140 a night. You get a great room and a great view.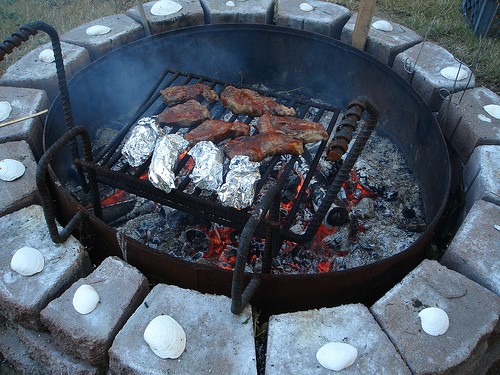 BBQ at Pacific Beach, Washington State. Reproduced under a Creative Commons license with the kind permission of robinsan on Flickr
Just a mile south of Pacific Beach lies the newly built town of Seabrook, with 30 new luxury 3-5 bedroom cottages, with private hot tubs. Priced between $99 and $325 a night, these quaint cottages provide a private hideaway that is just right for couples and close groups.
Where to Eat
If you are looking for someplace casual to dine after a day of beach combing, don't just settle for fast-food. Drop by the historic Aloha Tavern for beer, pool, pizza and burgers - but not necessarily in that order. Located on Ocean Beach Road, the family tavern is a great place to hang out. Now under new ownership the joint is rocking seven days a week with some of the finest food to be had on the Pacific coast.
For something a little less casual, consider dinner at Paddies Perch Restaurant. They are famous for their desserts at Paddie's where the chocolate is so creamy and delicious. Have some of the finest seafood around and then sit back and enjoy a nice big piece of homemade chocolate cake.
If you need a five-star dining experience while you are visiting Pacific Beach, Washington, then don't settle for anything less than The Ocean Crest Resort. Dining at The Ocean Crest Resort is always top of the line, with some of the most delicious cuisine to be had in the Pacific Northwest. Hence, the five star rating. They also have an excellent wine cellar stocked with select fine wines from around the world and across the region.
NOTE: Information correct at time of publication. Always check with your chosen destination before you travel.


Have Your Say!
If you've got your toes wet at Pacific Beach, Washington State, get writing. We love to publish stories from readers: it's great to hear about your own Washington Coast adventures.
Use the simple form below to send us a write-up of your favorite memory of this beautiful recreation area. You can include up to four pictures, too.
Review Washington State Tourist Attractions
Review any of the Washington State Tourist Attractions using this simple form.

Simply click and type to enter your review. But if you require help, click on any of the question mark icons.
Return from Pacific Beach Washington State to the Washington State Attractions menu


Be sure to discover all our Washington Coast Adventures!