Sequim Bay State Park
Sequim Bay State Park sits on the North Olympic Peninsula in the rain shadow, so it only gets about half as much rain as other Puget Sound areas. The park covers 92 acres of land with nearly 5,000 feet on the saltwater coast.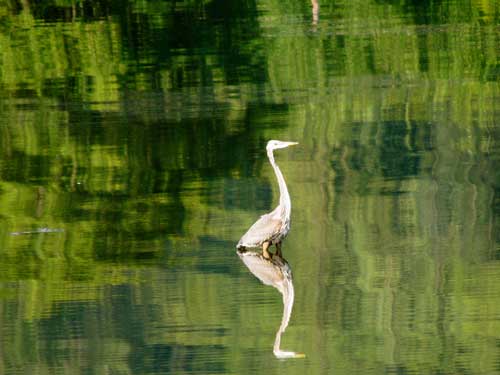 There's plenty of bird watching here.
Reproduced under a Creative Commons license with the kind permission of
jeffgunn on Flickr
For more than 100 years "Sequim" was thought to mean "quiet waters". It wasn't until recently that a tribal linguist, trained in ancient languages, determined the translation was incorrect. According to the expert "Sequim" actually means a "place for hunting" referring to the abundance of wildlife in the area.

Situated on the Strait of Juan de Fuca, Sequim Bay State Park is protected by two overlapping sandbars from harsh waves and powerful currents. The area was also protected from early explorers, who passed this beautiful spot three times without even noticing.


Sequim is perfect for campers that don't like their holiday ruined by rain. Unlike many parks in Washington, Sequim Bay State Park averages less than seventeen inches of rain per year.
Beachcombing is the most popular activity for campers at the park. You can scour the coast for all types of sea life from the Pacific Ocean, including mussels clams, scallops, starfish and sea cucumbers. You may even catch a glimpse of seals playing off the coast. Your little ones will be entertained for hours.

Other fascinating wildlife you may spot in the area include deer and elk, as well as plenty of species of birds.
Camping at the Park
There are 49 tenting sites, 15 RV sites, three bathrooms and three showers. One of the restrooms and two of the showers are ADA compliant. Some of the RV sites are up to 45 feet long.

The major activities at the park include boating and swimming. You can also hike the trails, dig for clams and hunt crabs.

The park features an amphitheater, baseball field, basketball court and plenty of fabulous bird watching opportunities.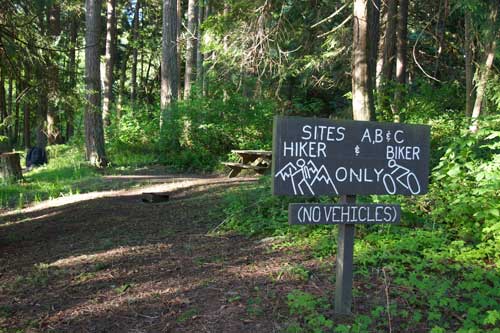 A woodland campground.
Reproduced under a Creative Commons license with the kind permission of
grahamb on Flickr
Most of the park is open year round for camping and day use, although some campsites are closed during the winter. Ice and firewood is available at the campground. You are asked not to bring your own wood as this may introduce invasive species of insects or diseases to the area.

If Sequim Bay State Park doesn't offer enough to fill your days and keep you entertained, the Olympic National Park and Forest are just around the corner. You can experience great day excursions.

The most fascinating attraction nearby is the Olympic Game Farm. It is a short 20 minute drive from the park. The Farm is home to more than thirty-two different species of domestic and exotic wildlife, some endangered and some not.

You can drive through the beautiful reserve or tour parts of the grounds on foot. Both tours allow you to get a close up view of many of the animals. There is also a petting area where you can feed and pet tame animals, including getting slobbers from a friendly bison.

You will see many beautiful creatures like zebras, elk, rhinos, prairie dogs, yaks, ostriches, donkeys, deer, Bengal and Siberian tigers, African lions, cougars, leopards, lynx, timber wolves, coyotes, black bears, Kodiaks and grizzly bears.

The Olympic Game Farm worked closely with Disney Studios for many years. The lands and animals were featured in many film and television productions. The Grizzly Adams television series being one of the most famous.

Between the beautiful scenery, the calm waters surrounding the park, and the fun and unique Game Farm nearby, your experience in beautiful Sequim Bay State Park, Washington will have you coming back for more.

Go from Sequim Bay State Park to the Sequim, Washington menu

Visit the Washington Coast Adventures home page