Whidbey Island Winery
Hop on the ferry and enjoy a short jaunt over to Whidbey Island Winery. In addition to fabulous beaches, Whidbey Island has great hiking opportunities, astounding views and a slew of other great adventures, you will find the Whidbey Island Winery.
Whether you love wine or you are just curious about how wineries became so popular on Whidbey, this farm is worth a visit.

When you think about wine, you think about California, Italy, France and maybe even Germany. Unless you live in Washington State, you probably didn't even realize Whidbey had a winery, never mind six in operation and just as many waiting to develop.

Some winery owners had the good fortune of buying land where grape vines were already growing. When you start a grape vine from scratch, you have to wait at least four years. That is how long it takes for a vine to bear fruit. Much like a fruit tree, a strawberry patch or an asparagus field.

You can't plant an apple tree in the spring and expect to have apples in the fall. If you don't plant your fruit tree or bush in just the right climate, it will not grow.

That is what differentiates one winery from another. Every natural element affects the fruit. The sun, the quality of the water and mostly the quality of the soil all have a major impact on how the fruit will taste.

Winemakers have discovered that the cool, ocean side climate on the island is perfect for cold-climate grapes.

The first grapes were planted at Whidbey Island Winery in 1986. It wasn't until June of 1992 that the winery was finally open for business. The first harvest yielded 400 cases of wine. Today, they produce around 3,500 cases per year. They have earned a reputation for creating outstanding wines, high in quality, balance and value.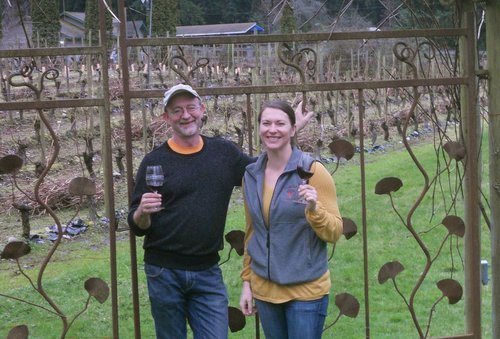 Greg and Leah of Whidbey Island Winery
Reproduced under a Creative Commons license with the kind permission of
Jameson Fink on Flickr
The Wine Club
As a member of the Whidbey Island Winery wine club, you will have the opportunity to experience the creativity of the wine making process. Every year the winery produces small batches of specialty wines, which are often only available to club members. This gives the exclusive opportunity to sample and collect limited edition wines.

Memberships also make a great gift for the person who has everything. Benefits include:
Free membership.
Receive 10% off every bottle and 20% off of a case.
Free wine tasting when you visit.
Your quarterly shipment includes a newsletter, plus you get monthly email updates about products and special events.
First access to special events, recipes and larger discounts.

How it works:
The winemakers select which wines to send you.
Shipments are four times a year – February, May, August and November.
Your account is billed automatically.
Wine is shipped right to your home or office, or you can pick it up at the winery.
You must be of legal drinking age. A signature is required upon delivery.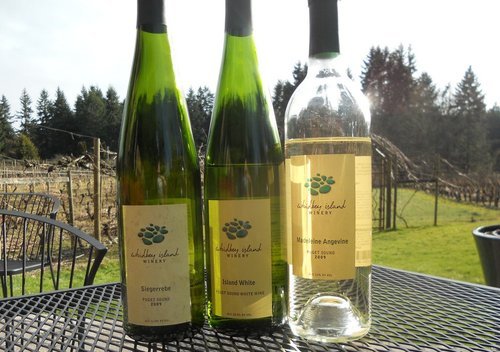 Bottles of wine from the Island Winery
Reproduced under a Creative Commons license with the kind permission of
Jameson Fink on Flickr
Featured wines available at the Whidbey Island Winery
Pinot Noir – The alluring aroma of violets, strawberry jam and earth introduce the flavors of cherry, butterscotch and cloves in this delicate, but impressive wine. Goes great with grilled salmon, smoked meats and goat cheese. $28 per bottle.

Cabernet Franc – This medium bodied wine has the friendly aroma of spice and dark berries and the classic flavors of cranberry and blueberry. Perfect with salmon, lamb, duck, pork, tuekeya dn grilled vegetables. $18 per bottle.

Syrah – This gold award winner is silky and seductive. Tastes great with dark chocolate. $28 per bottle.

Malbec – The glorious aroma is perfectly complimented with flavors of plum and sweet berries. $19 per bottle.

Sangiovese – Inspired by Tuscany, this wine is exploding with rich flavors of licorice, black cherry and cocoa. $18 per bottle.

Like many Whidbey winemakers, Whidbey Island Winery makes white wine from his own grapes and buys red grapes from eastern Washington for their big reds. Their signature "Island White" is the wineries best seller and a great value at only $10.

The winery is located just off the main street in Langley and it is one of the town's most popular tourist attractions. Complete with picnic area, you can spend the whole day here. The winery often hosts art exhibits for local artists.

All of the winemakers on Whidbey Island are very friendly and getting to know them personally is not only easy, it is encouraged. The family run farms are professional, yet very casual. Even if you don't become a member, you will feel like part of the family.

A visit to the Whidbey Island Winery is a great way to spend the day, get to know a wonderful wine making family and learn everything you ever wanted to know about the wine business. Plus, you get to sample some of the best wine on all of Washington State.

Go from Whidbey Island Winery to the menu page

Visit the Washington Coast Adventures home page