Whidbey Island Rentals

Whidbey Island rentals include a wide variety of fabulous waterfront cottages and beach houses. Many feature sandy beaches and fantastic views of the mountains.

Whidbey is the largest of nine islands located in Island County, Washington. Thirty miles north of Seattle, the island sits between the Olympic Peninsula and the western edge of Washington.

The island is the permanent home of approximately 60,000 residents, known as the Whidbey Islanders.

From the northern tip to the southern point, the island is only 35 miles long and the width varies from 1.5 to 12 miles, making up a mere 168 square miles.

Whidbey was once home to members of several Native American tribes including the Snohomish, Lower Skagit, Suquamish and Swinomish. The island was spotted by explorers in 1790, but not fully explored until 1792 by Captain George Vancouver. Vancouver named the island in honor of Royal Navy officer and member of his expedition, Joseph Whidbey. Puget Sound was named for another member of that expedition and navy officer, Peter Puget.


Daily or Weekly Whidbey Island Rentals
Shorebird Beach House

This fabulous two bedroom, waterfront beach house has an additional sleeping area, providing beds for up to six people and two full bathrooms. There is a large living room, a family room and a kitchen. The deck offers spectacular views of Mount Baker and Camano Island, as well as an occasional gray whale.

The kitchen is fully equipped with everything you need, including a dishwasher and microwave oven. The living room has a game table and a large flat screen tv. In the family room you will find a second tv and a free standing wood stove. The house is equipped with cable television, wireless internet service, DVD & CD players, plus a washer and dryer.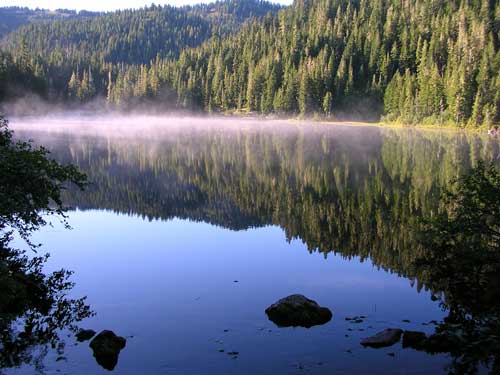 Deer Lake, Whidbey Island
Reproduced under a Creative Commons license with the kind permission of
brewbooks on Flickr
House on Deer Lake

This two bedroom house is right on Deer Lake. The eight foot sliding glass door lets you gaze at the beautiful calm water right from the bed in the master bedroom. The room features a large jacuzzi, private shower and satellite tv.

The lake can also be seen from the dining room and living room. The living room features a 32 inch tv, also connected to the satellite dish. The trout fishing is great and birds you are likely to see include eagles, kingfishers, herons, Canadian geese, loons, buffleheads and cormorants.


The Quintessa

This spacious and elegant mulit-level house has nine bedrooms and can sleep up to thirty people. You can rent one room for a romantic getaway or the entire house, including the cute little cottage for large reunions, weddings or special gatherings for any occasion.

A nine hole golf course, sandy beaches, shopping opportunities, fabulous food and a vintage movie theatre are just a few minutes away.

Sandpiper Haven

This charming one story, two bedroom home sits on a low bank area of Penn cove. You get direct beach access, a nearby boat launch and breathtaking views.

New owners have added many modern upgrades including HDTV with satellite service, iPod docking, sofa bed in the living room, outdoor furniture, fire pit and gas grill. You will even be provided with a crib and bedding if you bring your baby. Because of all of these updates and new furnishings, pets are not allowed.

The well stocked kitchen includes a dishwasher, full size refrigerator, microwave oven, toaster oven and many other small appliances and cookware to make your stay more comfortable.

The Harbor Villa
This marvelous four story, seven bedroom house can comfortably accommodate fourteen people. There are two master suites with king sized beds, two huge decks, large hot tub that overlooks Puget Sound, gas fireplace, two plasma tvs, plus a flat screen tv in just about every bedroom.

There are three full and one partial bathrooms, two laundry rooms and a fully equipped gourmet kitchen featuring stainless steel appliances. The rest of the house is stylishly decorated with original artwork and high end furniture.


Langley Penthouse
Located in a historic one hundred year old building, the Langley is the latest addition to Whidbey Island rentals. The penthouse apartment has been completely refurbished with new electronics, new carpeting throughout, fresh paint, new doors and an updated kitchen. Situated in the heart of town, you are in easy walking distance of art galleries, antique shops, boutiques and marvelous restaurants.

There are three bedrooms that can easily sleep six, but there is only one bathroom.


Captains Cabin
Perched on a bluff surrounded by glorious bald eagles, this three bedroom, two bathroom waterfront home offers an enviable view that seems to go on forever. Two of the rooms have king sized beds, the other has a queen. Conveniences include:
Indoor fireplace.
Fully equipped gourmet kitchen.
Cobblestone patios.
Washer and dryer.
Gas grill.
Jetted tub.
Beautiful deck.
Sandy Beach
This is a new development and doesn't have a fancy name, but don't let that hold you back. There are only two bedrooms, but the house can accommodate up to eight people. When you first enter the house, you will almost feel like you are floating because of the panoramic waterfront views visible throughout the home.

The sliding doors take you right onto the sandy beach where you can watch whales feed on shrimp from the Saratoga Passage. And unlike most Whidbey Island rentals, pets are allowed.
There are more Whidbey Island rentals at Penn Cove.
Reproduced under a Creative Commons license with the kind permission of
brewbooks on Flickr
Penn Cove Cottage

This quaint little cottage has all of the modern conveniences you need at very affordable prices. You can enjoy a romantic and private getaway on the beautiful waterfront banks of Penn Cove. Eagles soar the area, the sunsets are breathtaking and you have a spectacular view of Mt. Baker.

The two bedroom Cottage has been recently redecorated and furnished with queen sized beds and a fully stocked kitchen. Other features include a propane fireplace, cable tv, internet, washer and dryer and an outdoor charcoal barbeque.

With the entire island being only 35 miles long, you can easily bike or walk to all locations from any of the Whidbey Island rentals. When you don't feel like cooking, you have plenty of scrumptious restaurant options. Take in some of the local culture at one of the museums or art galleries. Play a few rounds of golf or take in a show at a vintage theatre. Day or night there is always plenty to see and do. And the fabulous Whidbey Island rentals will make your vacation a truly memorable experience.

Go from Whidbey Island Rentals to the menu page

Visit the Washington Coast Adventures home page