Whale Watching in Washington State
Whale watching in Washington is a must-do. No trip to the Pacific Northwest is complete without at least one whale watching excursion. You might want to schedule two, because they are that exciting.
Whale Watching Reproduced under a Creative Commons license with the kind permission of DashHouse on Flickr
When it comes to whale watching, nobody knows the waters better or the whales better than the tour guides on the coast of Washington State. They understand the migration patterns, how the whales behave and where they like to feed and hang out.
There is no point in scheduling a tour out into the Pacific Ocean at random and hoping you find a pod of whales. You need an experienced guide who can get you up close and personal with the giant mammals.
Whale Watching in Washington: What to Expect
Gray whales and orcas are the most commonly spotted whales during a whale watching tour.
The orcas are recognizable for their giant black and white bodies.
They like to travel in big family groups, often with children in tow.
Gray whales are spotted up and down the Washington coast and offer no less of a spectacular showing of fins and tails.
Humpback whales can also be spotted in and around the waters off northwestern Washington State.
Orca whales travel through the Pacific year round, so you can catch a glimpse of them just about any time. For gray whales the best viewing months are March, April and May when they are migrating south.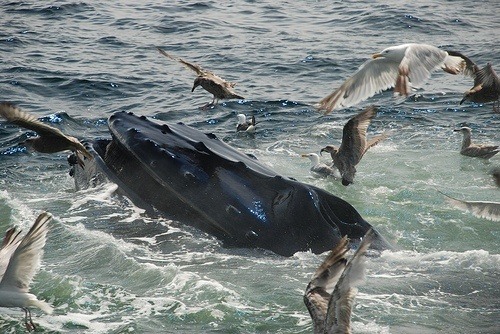 Whale Watching Reproduced under a Creative Commons license with the kind permission of Adam & Tess on Flickr
The area off the coast of the San Juan Islands is known for their whale populations. The orca species is abundant in the cool waters around San Juan Island, providing a spectacular show for the thousands of visitors who schedule tours.
More experienced sea-going types can head out into the waters on kayaks and get a bird's-eye (or a fish's-eye!) view.
Whale Watching in Washington Without Water!
Don't have sea legs?
Many visitors choose to do their whale watching from the shore, and there are plenty of locations to do that too.
On the west side of San Juan Island is an area called Lime Kiln Point, where you can see the whales from the safety of the shoreline.
It offers one of the best views of the water and just about any time of the day or night, you can catch a glimpse of at least a whale or two.
The park is open year round from 8 a.m. to dusk.
The San Juan Islands and the Puget Sound are known for their preponderance of whales; whale watchers travel there from all across the world to take in the view. Scheduling a tour is easy as an abundance of tour guides operating everything from sailboats to motorboats to seaplanes stand ready to bring you so close to the whales you will get wet.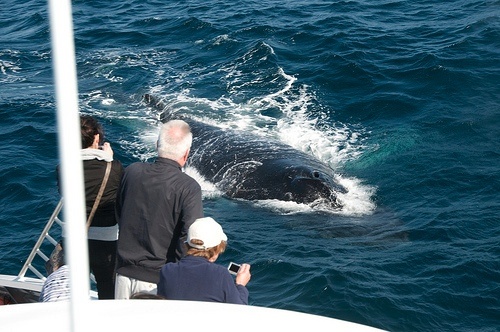 Whale Watching Reproduced under a Creative Commons license with the kind permission of Bradjward on Flickr
Tours operate from ports in the San Juan Islands, Bellingham, Anacortes and Port Townsend, just to name a few. You can schedule a tour boat to take you out in the morning and catch a sight of them with the rising sun in the background. Or schedule an afternoon trip when the sun is brightest. The evening time, just before the sunset, when the whales are still feeding, is also a great time to go.
Don't forget to bring your camera and plenty of extra batteries, and prepare to get wet. Getting the best pictures of the whales means getting close, and getting close means you are bound to get wet at some point.
Resources
Whale Watching in Washington State guide
NOTE: Information correct at time of publication. Always check with your chosen destination before you travel.
Have Your Say!
If you've got up close and personal with these amazing mammals, get writing. We love to publish stories from readers: it's great to hear about your own Washington Coast adventures.
Use the simple form below to send us a write-up of your time whale watching in Washington State. You can include up to four pictures, too.


Review Washington State Tourist Attractions
Review any of the Washington State Tourist Attractions using this simple form.

Simply click and type to enter your review. But if you require help, click on any of the question mark icons.
Return from Whale Watching in Washington to the Washington State Tourist Attractions menu


Be sure to discover all our Washington Coast Adventures!