Can You Find Gold in Washington State?
Is there gold in Washington State?
While places like Alaska, Nevada and California might seem like the best places to find gold, Washington State has a healthy record of substantial gold discovery, too.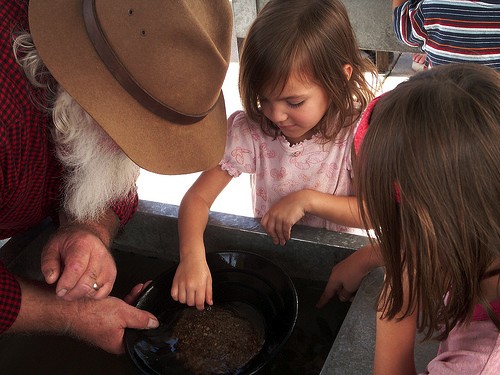 Can You Find Gold in Washington? Reproduced under a Creative Commons license with the kind permission of cobalt123 on Flickr
The idea of some grizzled prospector hauling a mule out to an isolated stream bed and panning for gold is far too outdated for today's gold mining operations. But there are still plenty of organized ways to help you have a family-friendly gold-hunting experience in Washington State.
Panning
Most of the gold to be found by recreational gold miners is called "placed gold", named for the Spanish word for "stream bed", which is where the gold washed down the streams and rivers is found.
This type of placer gold is discovered through the traditional panning method.
A miner scoops up a half pan of debris from the sandy bottom of the stream and swishes it around in their pan.
The lighter pieces of debris, sand and gravel spill over the edges of the pan and back into the stream, while the heavier pieces of gold sink to the bottom.
A full season of this type of mining might yield a few hundred dollars worth of gold. Hardly enough to retire on, but enough that might make a family vacation that much more fun.
In a weekend, a family of four might pull a quarter of an ounce of gold from the streams where public panning for gold is still allowed in Washington State, if they're lucky. Or they might get their feet wet for nothing. Panning for gold is often an effort in futility, as not every pan of sand produces gold flakes. In fact, most of them don't. If it were easy, everyone would be doing it.
The Law on Gold in Washington State
The Washington State Department of Natural Resources has strict rules for where and when someone can pan for gold. It is not simply a matter of dipping your pan in a stream and seeing what you can fetch out. The laws are very specific about what is allowed and what is forbidden.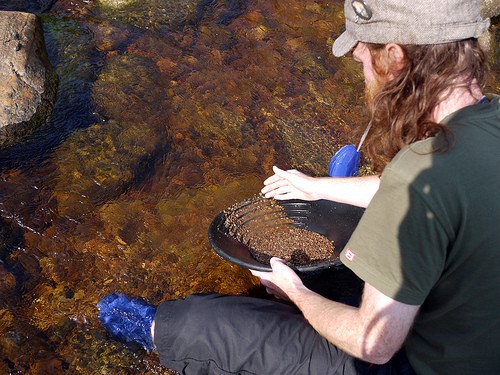 Can You Find Gold in Washington? Reproduced under a Creative Commons license with the kind permission of the justified sinner on Flickr
The "Mineral Prospecting and Placer Mining Rules", published by the Washington Department of Fish and Wildlife, details exactly what type of mining you can conduct with or without a valid permit.
The pamphlet is meant as a guide to help prospective miners conduct their operations without disturbing fragile ecosystems, such as fish eggs or hatchlings, which might be present in the waterways.
You also need the permission of the landowner, whether private or public lands, or possibly the permission of one of the local Native American tribes, before panning for gold on their property.
If you strike it rich on their land, they'll likely want a slice of the pie.
If you would rather leave the details to a group more experienced than yourself, consider signing up for one of the many gold prospecting tours available in Washington State.
There are a number of these tours operating throughout the year, depending on where and when you want to go. They can provide all the required permits and take you right to the places are you are likely to have the best luck panning for gold in Washington State.
Resources
Washington State gold mining laws
Gold claim maps
NOTE: Information correct at time of publication. Always check with your chosen destination before you travel.
Have Your Say!
If you've searched for gold in Washington State – and maybe even found it! – get writing. We love to publish stories from readers: it's great to hear about your own Washington Coast adventures.
Use the simple form below to send us a write-up of your favorite gold-panning or mining adventure tale. You can include up to four pictures, too.


Review Washington State Tourist Attractions
Review any of the Washington State Tourist Attractions using this simple form.

Simply click and type to enter your review. But if you require help, click on any of the question mark icons.
Return from Gold in Washington State to the Washington State Tourist Attractions menu


Be sure to discover all our Washington Coast Adventures!