Mount Erie and Anacortes, WA
Mount Erie may not be huge in mountain terms, but it makes up for that in natural beauty. The view from Burrows Bay across the still waters to the mist-shrouded Erie mountain is awe-inspiring.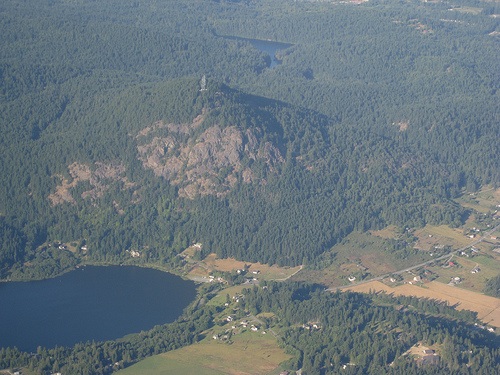 Mount Erie, Washington State. Reproduced under a Creative Commons license with the kind permission of kmk & aka on Flickr
The mountain itself is lower than most. Covered in a dense blanket of conifers, it is an inviting habitat for a variety of creatures, including Roosevelt Elk and bear.
The huge pine trees dominate the landscape and offer a shaded fantasy land beneath their prickly cover.
About the Park
The parkland surrounding Mount Erie is a city park, owned and operated by the city of Anacortes in the Anacortes Community Forest Lands.
It is adjacent to Little Cranberry, Heart and Whistle Lakes on Fidalgo Island.
Mount Erie is the highest point on this island sanctuary at 1,273 feet. The entire area is dotted with smaller lakes, ponds, and a complete wetlands ecosystem. There is an abundance of fish in the area, making this a prime spotting for anglers looking to land a big one. It also features camping, boat launching and gorgeous views of the San Juan Islands and it offers the very best view of Cypress Island.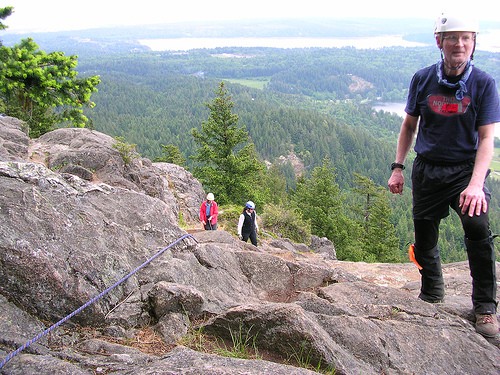 Mount Erie, Washington State. Reproduced under a Creative Commons license with the kind permission of BrewBrooks on Flickr
Mount Erie itself had not been explored until the mid 1960s, when a group of local climbers scaled to the top. It is uninhabited by people, although it is the home of several Sasquatch sightings. Mount Erie is not a prime skiing location, but is very popular with climbers, who say the view from the summit is astounding and well worth the trek to the top.
Rock climbing, or more traditional climbing methods are popular with visitors. But why climb when you can drive? The summit is also accessible via a single-lane paved road which travels a circuitous route from the base.
Anacortes, WA
Anacortes, Washington is a small community nestled among the forests and finery of the Pacific Northwest.
Located in the rustic Skagit County, it is one of two cities in the Mount Vernon-Anacortes Metropolitan Area.
Anacortes is most widely-recognized for the Washington State Ferries dock and terminal.
These water-bourne transportation sites serve Lopez Island, Shaw Island, Orcas Island and San Juan island.
Each of those communities is their own idyllic hideaway nestled amongst the conifers and pines, replete with enough wildlife and outdoor activities to keep you busy all summer long.
If you are looking to escape America for a short trip, why not take the Anacortes ferry service across the border to Victoria, British Columbia on Vancouver Island? Victoria is as close to an European city as you can get half a world away. The city is clean and beautiful, a perfect place for a night out, dinner and dancing.
For more residential services there is a Skagit County ferry dock that will take you across the straight to Guernes Island. Because it lies within the Olympic Mountain rain shadow, Anacortes enjoys some of the mildest weather in the Pacific Northwest.
It gets an average of 21 inches of rain per year, less than half what they can expect in Seattle. It is known for its world class yacht construction and shipbuilding. It remains a popular destination for boaters who travel between the San Juan Islands in Puget Sound.
Annual events at Anacortes include "Shipwreck Day" in July, an annual single day community wide flea market/garage sale and "What the Heck Fest", which coincides with "Shipwreck Day" and offers performances in music, movies, literature and art.
In August the community conducts the Anacortes Arts Festival where vendors, merchants and artisans present their goods while jazz and blues musicians play on four area stages.


Have Your Say!
If you've visited Mount Erie or Anacortes, and have a story to share, get writing! We love to publish stories from readers: it's great to share.
Use the simple form below to send us a write-up of your favorite memory of the park. You can include up to four pictures, too.
Review Washington State Tourist Attractions
Review any of the Washington State Tourist Attractions using this simple form.

Simply click and type to enter your review. But if you require help, click on any of the question mark icons.
Return from Mount Erie to the Washington State Tourist Attractions menu page


Be sure to discover all our Washington Coast Adventures!